Top six within Butcher's grasp
Last updated on .From the section Football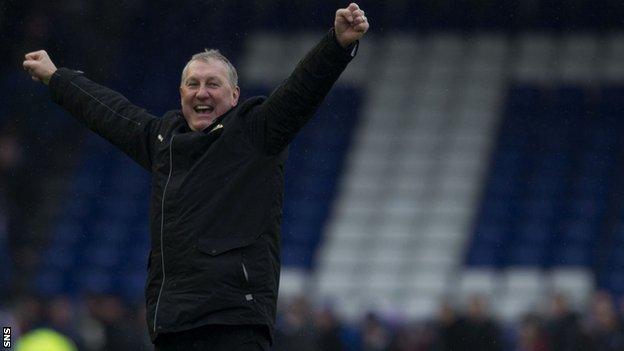 Boss Terry Butcher thinks Inverness are "about a point away" from clinching a top-six Scottish Premier League place.
moved Butcher's side up to third in the division.
"I'm delighted, I felt we warranted it," a satisfied Butcher told BBC Radio Scotland.
"There's still a bit of work to do to get to the top six, there's still a bit of work to do to finish as high as we can in this league."
Andrew Shinnie's tap-in and Billy McKay's penalty sandwiched Paul Lawson's leveller for County at the Caledonian Stadium.
And Butcher hopes the rivals can meet again in the post-split SPL fixtures.
"You've got to give credit to Ross County," said Butcher. "They're a good side, they never know when they're beaten.
"It's great to win a derby, it's great to be unbeaten against them this season as well and now we move above them.
"[The Caledonian Stadium] has been a fortress for us in the Highland derby and the next one will be away at Victoria Park.
"We haven't won there so we're looking forward to that if that does happen and both of us are in the top six and I think both teams deserve to be in the top six with the way they've played this season.
"We've got some good players, we've got the nucleus of a great team next year as well, they'll benefit from this experience.
"We want to make this season really, really special."
Butcher and County boss Derek Adams clashed at the side of the pitch when the two sides earlier this month and the Inverness manager admitted there had been another "heated exchange" at the end of the latest derby.
But he added: "It's not a confrontation, we just exchanged one or two words, that's about it. Derek's extremely passionate, he's a great manager, he's got a great future in the game.
"If I'd have lost to a penalty like that, I would probably have been annoyed as well because I would've felt the defenders could've done better.
"We felt we should've had a penalty at Victoria Park two weeks ago, which we didn't make a song and dance about, we just got on with it. Today, we got a penalty and perhaps justice was done."