Wayne Rooney: Montenegro may try to provoke striker - Hodgson
Last updated on .From the section Football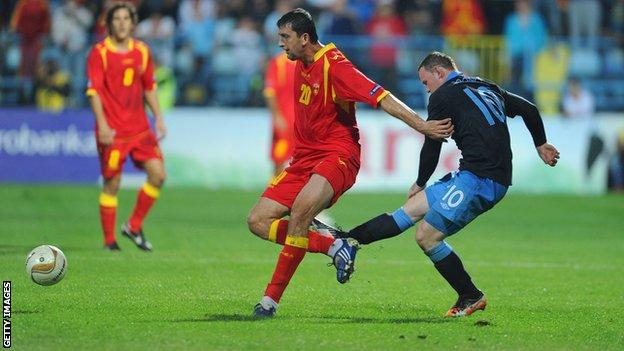 England manager Roy Hodgson believes Montenegro could try to wind up striker Wayne Rooney when the sides meet in their World Cup qualifier.
Hodgson's men take on Montenegro again in Podgorica on Tuesday, 26 March.
Asked if England's opponents may try to provoke Rooney, Hodgson said: "You might be right, but they are the things players need to come to terms with."
Rooney's red card in the 2-2 draw with Montenegro saw him miss the opening two games of Euro 2012 against France and Sweden as the Manchester United striker got his three-match ban reduced.
However, Hodgson has no concerns over Rooney's mentality and expects him to deal with anything Montenegro throw at him.
"Wayne doesn't seem to have been affected by opponents in any game we have played," said the England manager.
"His disciplinary record is good with us and he has not let me down. I've got no reason to doubt him.
"Wayne made a mistake, he has held his hand up and publicly admitted it was a mistake. He paid a high price for it because he missed two Euro 2012 games.
"He won't need me to remind him because it will be fresh in his memory because you don't forget being sent off."
However, Montenegro striker Dejan Damjanovic has dismissed claims they will employ dirty tactics against England.
"We must play our game on maximum and, with our supporters, maybe we can make a miracle," he told BBC Radio 5 live's Sportsweek. "Nobody is taking points from us at home. The ground will not be in perfect shape and everything is possible.
"We are going to press and kick. It is our style at home. We must be physical against them: they are one of the best teams in the world.
"Nobody is expecting us to provoke anything or for it to be a dirty game. We will play on the ball but we will play tough."
Hodgson is expecting an intimidating atmosphere, which comes four days after their other Group H clash with minnows San Marino.
"The players have to be ready to play the game, tactically, technically and mentally," said Hodgson.
"I think it will be intimidating. A lot of those former Yugoslav countries are very passionate.
"But you have got to learn to deal with those things. If ever we are going to do anything worthwhile at international level, we've got to be capable of playing in atmospheres which are not in our favour."
Arsenal midfielder Jack Wilshere misses England's two upcoming qualifiers with an ankle problem suffered in the Gunners' 2-1 defeat by Tottenham on 3 March.
Hodgson has revealed he will consider leaving the injury-hit midfielder out of June's glamour friendly with Brazil in Rio de Janeiro if it is in player's long-term interests.
Wilshere, 21, impressed in a home friendly against Brazil in February but spent 15 months on the sidelines with an unrelated ankle problem before returning this season.