Wrexham's Mark Creighton eyeing a return to full training
Last updated on .From the section Football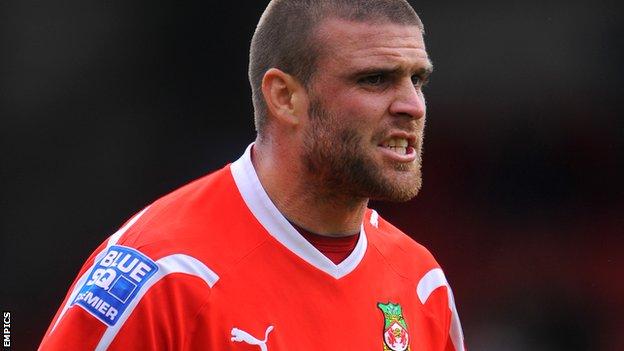 Wrexham centre-half Mark Creighton hopes to resume full training within the next month.
And the 31-year-old has not ruled out making a comeback for Andy Morrell's side before the end of the season.
"I'm probably about three weeks away from maybe joining in training with the lads. [I'll] take each day as it comes," Creighton said.
"If the gaffer says to me 'we need you' then that's something I will need to think about.
"Whether [that's] the last couple of games where I'm involved on the bench as an option for Mozza [Morrell] to come on [for the] last ten minutes to see a game out.
"However he sees me as an option, if he wants me as an option, then I'll leave it in Mozza's hands."
Creighton underwent surgery after suffering suffered anterior and cruciate ligament damage in his right knee in the Conference Premier game at Ebbsfleet in August.
"It's been horrible at times but I'm not one to mope about it," the former Kidderminster and Oxford player said of his absence this season.
"But I said when I first did it that when you put in perspective there's people that go and fight for our country in wars and come back with less limbs than they went with.
"At the end of the day all I've done is ruptured some ligaments in my right knee so it's not the end of the world.
"You have to compare yourself to things like that when you're feeling down. I've just got my head down and got on with it.
"There's been times when I've been desperate to get out there but I have to say there's not been many games where I thought they needed me."
Wrexham, who drew 0-0 at home to Luton Town on Saturday, are currently second in the Blue Square Bet Premier and face leaders Mansfeld at the Racecourse on Tuesday.
Next Sunday Morrell's side will be at Wembley for the FA Trophy Final against Grimsby Town but Creighton insists promotion remains the priority.
"I'd even take away the Wembley final now to have the promotion. It's worth so much money to the club," Creighton added.
"We're already going in the right direction on and off the pitch but we need to step on now and get back into the Football League, back where it belongs."