Burkina Faso star Pitroipa aims for World Cup success
By Oluwashina Okeleji
BBC Sport, Reims
Last updated on .From the section Football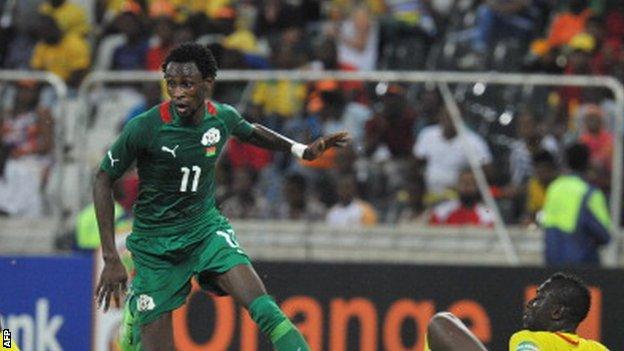 Jonathan Pitroipa is hoping Burkina Faso will use their heroic Africa Cup of Nations performance as a springboard for success in the World Cup qualifiers.
Prior to this year's tournament in South Africa, the Stallions had one aim - to end a sorry winless run stretching back to 17 Nations Cup matches.
They went on to surpass all expectation by finishing as runners-up to Nigeria.
Pitroipa was named player of the tournament.
Now, the Rennes winger is hopeful their run to the final can help them beat the odds and reach their first World Cup in 2014.
"We'll hopefully build on it, to prove to everyone that it was not a fluke in South Africa," the 26-year-old Pitroipa told BBC Sport in France.
"It's done, we left a mark, our fans enjoyed it but now we must take the same spirit into the World Cup qualifiers.
"Everything we did at the tournament becomes irrelevant if we fail to capitalise and fight to play in our first World Cup in Brazil."
Burkina Faso sit bottom of World Cup qualifying Group E without a point, after forfeiting a 0-0 draw against Congo for fielding an ineligible player.
Despite that lowly position and the massive odds against them, the in-form winger thinks Burkina Faso should be in a confident frame of mind.
They host Niger in Ouagadougou on Saturday as they seek to revive a fading campaign.
"We are a better team now and I think you can get the balance right when you are playing at home with a re-energised crowd behind you," he added.
"We need points in the next game. To be the second best team in Africa, we must transform it into our performances and hopefully make it.
"Some people will laugh at the thought of Burkina Faso at the World Cup but no-one gave us a chance in South Africa, yet we surprised everyone."
Pitroipa, who has been linked with clubs in England, Germany, Turkey and Russia, admits 'it's nice' to be linked with a summer move, but he insists he is a 'Rennes player' - although he would be open to a move in the future.
"It means I am doing well to be talked about in the media but that is not a distraction," he said.
"I have a contract with Rennes that I would love to respect. Hopefully when the time comes [to move], it will be ideal for both club and player.
"I am very ambitious and would love to develop my game at another level. For now, we just wait and see.
"It could be this summer or next winter, you just never know."