St Mirren's Cup win worth the wait

By Keir Murray
BBC Sport Scotland
Last updated on .From the section Football8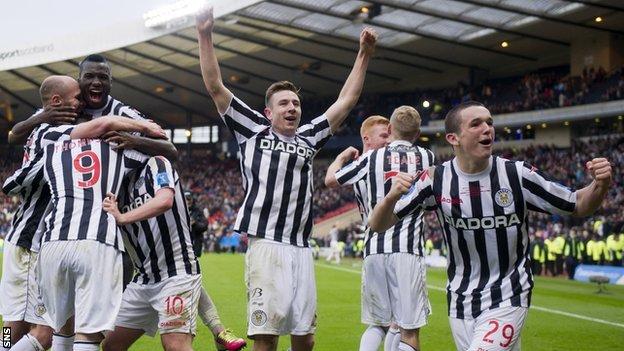 The Scottish League Cup has been up for grabs for much the same time as the welfare state promised to look after British citizens "from the cradle to the grave" after the Second World War.
Many St Mirren fans will have come and gone in the decades that the Buddies have been trying to win it.
But at Hampden on Sunday, the Paisley side got their hands on the League Cup in the tournament's 67th year and in doing so, in the words of their likeable manager Danny Lennon: "made themselves legends".
That may sound bombastic but followers of Scottish football, and certainly St Mirren fans, will know he's right.
The last main trophy the club won was the Scottish Cup in 1987 and members of that side are still revered: they are sought for interviews, after-dinner speeches, DVD contributions and biographies.
Indeed, it's no exaggeration to say the media has gone to the other end of the earth for quotes from the '87 match-winner. Ian Ferguson, now in Australia, was prominent in the match build-up.
Saints' 3-2 victory over Hearts was certainly a triumph for the club and for the town to the west of Glasgow, but it was especially so for their 34-year-old centre-forward Steven Thompson, a Renfrewshire native playing for his boyhood heroes in the twilight of his career.
"It's Roy of the Rovers stuff for him," was his manager's assessment afterwards.
"Stevie has had a wonderful career and there is more to come. He produced a wonderful finish for the goal."
That goal came a minute into the second half, a smashed left-foot shot high past Jamie MacDonald to turn the match in his team's favour.
Hearts had taken the lead through Ryan Stevenson after 10 minutes as hesitant Saints failed to settle.
They ought to have been two or three down by the time Esmael Goncalves side-footed home to level with eight minutes of the first half remaining after Thompson and Teale had combined.
When on-loan Newcastle midfielder Conor Newton made it 3-1, both sets of fans were rubbing their eyes in wonder.
The sense of passing time that has characterised St Mirren's bid for the trophy was evident within the team itself, for Thompson is almost old enough to be team-mate John McGinn's father.
The 18-year-old midfielder told BBC Scotland: "At 3-1 Thommo turned round and said: 'we cant lose this' and we didn't. It's brilliant to have him in the team.
"Last year I was struggling to get a game for the Under-19s. I kept working away. I have a lot to thank David Longwell, the head of youth, for. He kept pushing me.
"I've been at St Mirren since I was seven. I've been the whole way through. It gives the young lads a wee bit of inspiration to do the same.
"Ian Ferguson was 19 when he won the cup with St Mirren. Paul Lambert was 17. To have a career like Lambert's would be unbelievable. It's these guys you look up to."
Thompson and McGinn had been subbed in the closing stages by the time Stevenson scored his second to set up a tense final five minutes.
"We couldn't watch," admitted McGinn. "I was facing the stand, but what a relief when the ref blew the final whistle."
Their team-mate Lee Mair was struggling to keep his emotions in check when he faced reporters after the match.
Having endured cup final defeats with Dundee, Dundee United and St Mirren, the occasion was overwhelming.
"After losing three finals, it's so emotional to win," said the 32-year-old defender who tasted 94 seconds of Hampden action but whose goal knocked Hamilton out in the third round.
"When I saw my family at the end, I just broke down."
It was evident Lennon was still processing the afternoon's events when he took questions on the final.
"I'm very proud and emotional. It's really just sinking in," he said.
"We got into the players at half-time and reminded them that if they wanted to become legends there was a game of football to be played.
"I'm delighted that we are bringing the trophy back to Paisley for the first time.
"I'm thrilled for the directors for having the belief in me to serve this club."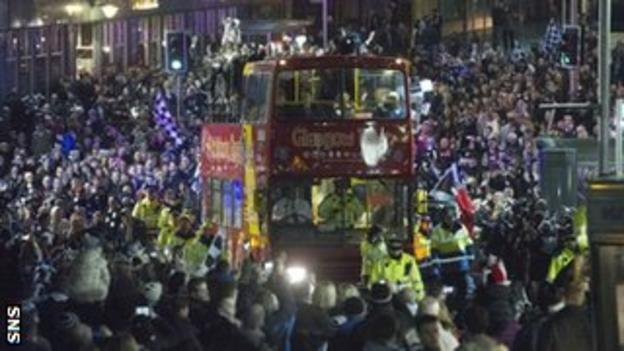 There was a marvellous moment when Newton rounded off a one-two for the Saints' third.
Lennon turned to the main stand and pumped his fists, then swung round to face the pitch. After a few seconds, he turned again and gazed for a while at the 17,000 black-and-white throng bouncing in the stands.
"I was taking it in. I wanted to enjoy it with them," he explained.
"I might never get to another cup final. There is no amount of alcohol tonight will get me higher than I am just now.
"The fans invest so much of their time, finances and emotion. I believe that for every pound they spend they should be entertained and valued. We don't give them it every week but we aim to.
"I am delighted that we can get Paisley buzzing."
And with that he boarded the team coach, with its windows being slammed by ecstatic players, to head for an open-top bus celebration through the town's centre.