Barry Horne urges Wrexham focus on promotion not Wembley final
Last updated on .From the section Football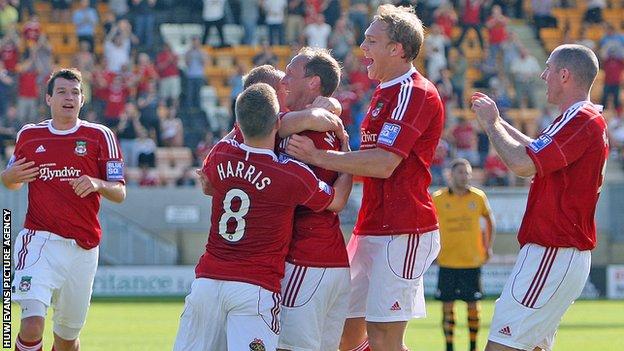 Former Wrexham midfielder Barry Horne says the players cannot allow the FA Trophy final to distract them from the "priority" of securing promotion.
Wrexham have lost top spot in the Blue Square Bet Premier to Mansfield, who they host at the Racecourse on Tuesday.
Andy Morrell's side face Grimsby in the FA Trophy final on Sunday but Horne would swap Wembley glory for promotion.
"If you offered it me now I'd take promotion," said Horne, now a Wrexham director.
"We're going to have to go to Wembley next Sunday and quickly get that out of the system.
"Without wishing to be a party pooper or a grouch we've got to go there, play the game and then forget about it.
"Whatever anyone says, promotion is the priority."
Former Wales captain Horne, who began his professional career at the Racecourse, says the promotion race is too close to call.
Currently 10 points separate the top five sides in the Conference Premier with Wrexham two points behind leaders Mansfield.
Third-placed Kidderminster are a point behind Wrexham, while Newport and Grimsby Town have games in hand over the top three.
Mansfield go into Tuesday's top of the table clash at the Racecourse on the back of nine successive league wins.
"In the last two or three years there has been one team clearly the one to catch," added Horne.
"For a long time that team was Wrexham, but not in the same way Fleetwood were last year.
"Then you have Kidderminster who are on a phenomenal run and Mansfield in the last three or four weeks have come on a charge.
"Newport have had their run as well and it's all just tightening up.
"[Wrexham] have hung on to that top spot perhaps a little bit longer than you might have expected bearing in mind we've dropped the odd point here and there.
"But we've done that and we've stayed on top and it's going to nip and tuck now for the remaining few weeks of the season.
"The lead will undoubtedly change hands and I'm guessing more than two teams will share that lead between now and the end of the season.
"You just don't know how it's going to go."