Swindon striker Andy Williams braced for Yeovil return
Last updated on .From the section Football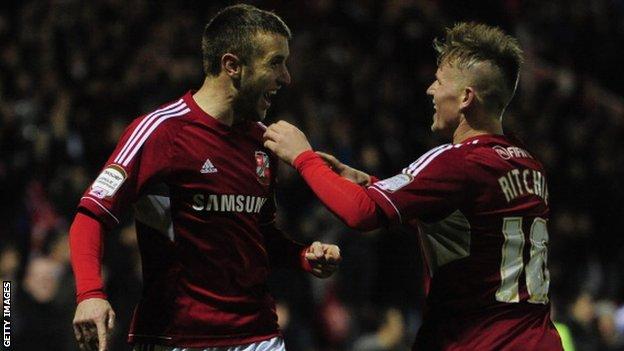 Swindon striker Andy Williams will try and shut out any negative reaction when he faces former club Yeovil on Tuesday.
The 26-year-old, who left Huish Park last summer, insists he will not take it personally if some Yeovil fans give him a less than warm reception.
"Everyone's entitled to their opinion. I've no idea what response I'll get.
"Unless you spend a lot of years at a club and done very well, you very rarely get a decent reception these days," he told BBC Wiltshire.
"As Yeovil fans, they might possibly have liked to see me stay at the time."
"But I think they've moved on from that and they've got a number of good strikers and it doesn't look like they are particularly missing me.
"Any old player that goes back tends not to get a great reception. It's not going to be too bad, so hopefully I won't let it affect my performance. You don't tend to hear the fans once you've started playing."
Williams scored 16 League One goals for Yeovil last season and was offered a new deal by the club, only to turn it down in order to join the Robins.
"I had a great two years there. I went there at a bit of a low in my career and Terry Skiverton and the gang there helped me out and put me back on track," he added.
"I managed to get a few goals in my first season and doubled it in the second. It was nice to get playing regularly again and to be enjoying my football again.
"It's certainly what I did there, so I have a lot of people to be thankful for at the club."