Rio Ferdinand: Questions remain about player's England future

By Phil McNulty
Chief football writer
Last updated on .From the section Football344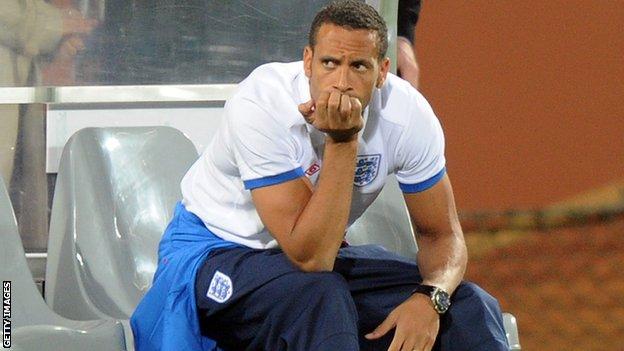 Rio Ferdinand's admission that his "intricate, pre-planned fitness programme" precludes him from playing in England's World Cup qualifiers in San Marino and Montenegro poses the most serious questions about his international future.
If Ferdinand's physical state is so delicately balanced and so meticulously managed, so potentially fragile, that he is not up to playing two games in the space of five days then it is hard to imagine manager Roy Hodgson counting on him in Brazil in 2014 should England secure World Cup qualification.
So it may well be, among some muddled communication and a bit of in-out hokey-cokey between Hodgson and Ferdinand, that the statement issued early on Monday afternoon finally signals the end of an England career stretching back to his debut against Cameroon in 1997.
The conspiracy theorists are already suggesting this is an example of revenge being a dish best served cold after Ferdinand was excluded from England's Euro 2012 squad in favour of John Terry.
Hodgson stated this was for "footballing reasons" but Terry was, of course, waiting to stand trial on a charge of racially abusing Ferdinand's brother Anton. Terry was cleared in court but later received a Football Association ban and fine over the incident - having already retired from international football.
The FA and Ferdinand moved to head off the conspiracy theorists at the pass.
A joint statement issued by the FA and Ferdinand was at great pains to point out in the strongest terms that this decision was a result of fitness concerns.
There was nothing sinister and no reason other than Ferdinand, after a period of reflection and no doubt consultation with Manchester United manager Sir Alex Ferguson and the club's medical staff, deciding he was not in the right condition to play these games in quick succession.
United's own fixtures at Sunderland on Saturday 30 March and the FA Cup quarter-final replay at Chelsea only two days later may also have had a bearing on Ferdinand's considerations.
The words from the FA and Ferdinand were conciliatory, diplomatic and tinged with regret on both sides. There was also a clear hint at future involvement from both Hodgson and Ferdinand, who said he used a meeting with the manager on Sunday to make it clear "my passion and commitment to represent my country is as strong as ever."
Whether the sight of Ferdinand wearing an England shirt winning his 82nd cap for his country actually comes to pass must now be in grave doubt.
Ferdinand is 35 in November and logic suggests his state of fitness will only be more carefully and intricately monitored.
He has played his full part in what looks certain to be Manchester United's 20th title success this season and may believe maintaining his fitness for further successes at Old Trafford is his top priority rather than taking risks when England were more than happy to do without him when it mattered in the past, specifically in Poland and Ukraine last summer.
If he cannot put himself forward to face San Marino and Montenegro, can Hodgson really consider Ferdinand fit for purpose for the demands of an international tournament, with the prospect of high-intensity games coming on top of one another in South American conditions in Brazil in summer 2014?
Having accepted his inability to make himself available for San Marino and Montenegro, perhaps Ferdinand should put romantic notions of an England return to one side and accept the realism of international retirement is now his best course of action for the avoidance of further uncertainty.
It is clear this development could have been avoided with greater communication on both parts.
Ferdinand's fitness situation has not altered since he was named in the squad and Ferguson's expression of surprise at his recall, having last played for England against Switzerland in June 2011, was the first clear hint that Hodgson's invitation may not be taken up.
It is highly unlikely Ferguson will spend a sleepless night having learned Ferdinand will devote his attentions to club as opposed to country.
On reflection, England's manager may feel he could have cleared this up with some communication with Ferdinand and Ferguson before making his selection, thus avoiding what has the potential to end in more awkward questions for Hodgson about his relationship with the veteran defender.
On the other hand, FA protocol is to inform the relevant clubs of the players being selected on the day of the squad announcement. No special arrangements were made for Ferdinand and it was only once he was back in the fold that queries about how his specialist, specific fitness regime would fit in with England were raised.
Unfortunate circumstances maybe, but messy nonetheless.
This moment was very much now-or-never for Hodgson and Ferdinand. With the defender playing well for United and England's central defensive resources reduced by Terry's retirement, injury to Everton's Phil Jagielka and Joleon Lescott's journey to the margins at Manchester City, it was hard to see how Hodgson could not recall him.
Ferdinand may have actually only played against Montenegro given that England are hardly going to be placed under defensive stress against San Marino on Friday.
His experience would have been welcomed by Hodgson on hostile territory in Podgorica, where Fabio Capello's England were held to a 2-2 draw in a Euro 2012 qualifier in October 2011.
Now Hodgson and England will have to do without Ferdinand. And the fact that he is unable to risk being away with England and away from the care of Old Trafford's team of sports scientists for such a relatively short period raises the possibility of this now being a permanent state of affairs.