Rangers should be in proposed middle tier - Charles Green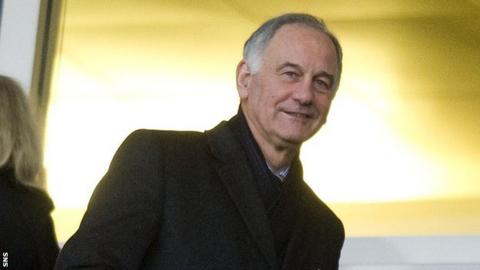 Rangers say if league restructuring goes ahead, they should be elevated to the division below the Premier League.
The Glasgow club can clinch the Third Division title this weekend.
Rangers chief executive Charles Green says if the leagues change to a 12-12-18 set-up instead of four leagues, they should be promoted to the middle tier.
Green is also in favour of , whereby Rangers would have a reserve team in the bottom division, along with Celtic.
The 12 Scottish Premier League clubs will vote on changing the league structure on 15 April. The proposal also includes moving to one league body, play-offs and a greater distribution of cash among the smaller clubs.
Eleven votes are required for a move to a structure of two top leagues of 12, which would split into three leagues of eight midway through the season.
Meanwhile, David Longmuir, the chief executive of the Scottish Football League, has proposed a late change to the format, suggesting a four-division 12-12-10-10 set-up with Rangers and Celtic providing "colt" teams to take the number of clubs to 44.
When the SPL first revealed its plans for 12-12-18, but that has failed to gather sufficient backing for it to be considered and voted on by the two league bodies and their member clubs.
In a statement issued on Monday, the Ibrox chief executive said Scottish football fans were "bewildered and thoroughly exasperated" at the league plans and lamented that the 14-14-14 proposal was "not pursued more vigorously".
He did, though, welcome the idea of a single league body.
Green said: "I am putting forward the following league structure proposals which I firmly believe to be in the interests not only of Rangers but also Scottish football as a whole.
"It is essential that any proposals address satisfactorily the issue of sporting integrity and I believe our proposals do that.
"All things being well, Rangers should win the Division 3 title and, that being the case, we should be promoted. That should happen regardless of what league structure the powers that be put in place.
"It would be manifestly wrong to deny any team promotion having won the competition they have entered into at the start of the season. Equally, teams which have been relegated should not benefit unfairly from any restructuring of leagues.
"There is already a precedent for this situation, established by the SFL at the end of the 1993-94 season when Stranraer, winners of the lowest of three divisions, were promoted to the new second tier on the basis they were champions of their division and merited promotion.
"There has been no shortage of voices banging on about sporting integrity over the last year but sporting integrity must cut both ways."
The Englishman cited the financial boost to clubs such as Dunfermline if Rangers were playing in their division.
He added: "Clubs in Division 3 are already enjoying a season where their home matches against Rangers are generating 10 times the revenue they would expect from any other home game.
"We are genuinely pleased to have done our bit to assist these clubs financially and have been warmly welcome by SFL clubs. We would like to continue helping the game in Scotland and that's why I am proposing that a Rangers' Colts team be admitted to the SFL, and I hope Celtic would also consider doing the same.
"The SFL has shown real leadership in proposing this initiative although it should be pointed out that this was not the result of lobbying from this club.
"This is an SFL initiative and is genuinely practical in that it would result in bringing much needed additional income to the game."