Woking defender Joe McNerney praises team for passing 50 points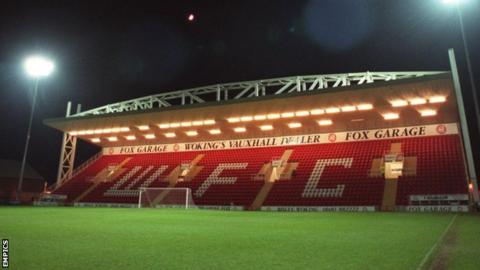 Woking's Joe McNerney has praised the club for passing 50 points despite staying part-time in their first season back in the Blue Square Bet Premier.
The weekend win over Telford and Tuesday's 1-1 draw at Braintree has taken them to 53 points, 13 clear of the drop-zone.
"It wasn't drummed into our heads every week but it was always a target for us to reach," he told BBC Radio Surrey.
"Considering some of the full-time clubs' resources we've done great."
The Cardinals were promoted from Blue Square Bet South last season after winning the league by nine points.
This season they have not been in the relegation zone since late August and currently sit in 11th position - Hereford being the only part-time club above them.
"I love playing here, I'm comfortable and it's reassuring to be at a place where everyone around you is trusting, supportive and believes in you," McNerney continued.
"Sometimes you can see a real difference playing against full-time clubs but doing as well as we have we now really want to kick on and become the top part-timers in this league."