FA Trophy Final: Joey Jones undecided on Wembley trip
By Aled Williams
BBC Wales Sport
Last updated on .From the section Football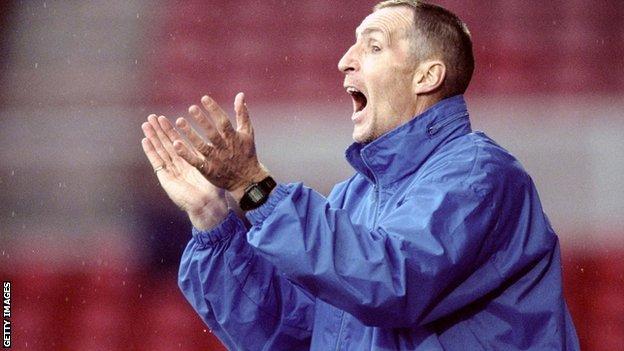 Sunday's FA Trophy final against Grimsby Town at Wembley will be Wrexham's first appearance at the home of English football.
Over 16,000 Wrexham fans are expected to travel from north Wales to north London for non-league football's showpiece occasion.
But a man synonymous with Wrexham and who was voted the club's Cult Hero in a BBC Football Focus poll might not be there to witness the big day.
Joey Jones made over 350 appearances during three spells with the club before he joined the coaching set-up, even serving briefly as caretaker manager.
He is still very much involved with the Racecourse club, and as reserve team manager one would expect him to be among the club's official travelling party.
But: "I'm still undecided," said the former Liverpool, Chelsea and Wales defender.
"I've always been superstitious throughout my career and because I haven't seen the first team play away this season and done extremely well I'm a bit undecided.
"People say it's not an away game but it's not at the Racecourse, is it? It's at Wembley
"I haven't said 'yes' or 'no' at the moment, but if I do go I'll just jump in my car and go.
"But it's not about me it's about Wrexham, it's about the team and the supporters having a great day and coming back happy.
"It should be a great occasion and I just hope the players don't get carried away by that and perform on the pitch and do the job that they are there for and that's to win a football match."
Jones says reaching a Wembley final is a big achievement for a town which came close to losing its football club during recent years.
Ownership issues saw the club suffer and stagnate before the Wrexham Supporters' Trust finally took control in 2011.
"I'm really pleased for the supporters and everyone connected with the football club past and present. Nearly 150 years and Wrexham have never been to Wembley." Jones added.
"We've really got to thank the supporters who stuck behind the club and got people who at that time who were probably hell bent to try and destroy it.
"It's in the past now, let's look forward and push on, because we don't want to look back."
With stability off the pitch and a team pushing for a return to the Football League, from which they were relegated in 2008, Jones says the revival of another Welsh club, Swansea City, can inspire Wrexham.
"You make comparisons and look at Swansea now," said Jones, who won 72 caps for his country.
"Swansea when Brian Flynn was in charge had to win that last game [against Hull City in 2003] and they've gone from strength to strength.
"You'd like to think the same could happen to us. [Going to Wembley] could be the springboard.
"You can only take each game as it comes and hope that the club will progress day by day, week by week, month by month.
"But it's certainly in good hands with the Trust."
"The management team we've got in place now are all hard working and hopefully everybody can see success for Wrexham."
Success at Wembley would be welcome but Jones, like so many others at the club, would gladly swap an FA Trophy win for promotion at the end of the season.
"I'd definitely take promotion because the club wants to get back in the Football League where everybody thinks it belongs," Jones added.
"But having said that there's a lot of teams in this division who think they belong in the Football League as well.
"But we need to get back there. I'd take that any time over the cup.
"They've got to the final, so why not win it and do what York City did - win the Trophy and get promotion as well?"