Bridgwater Town endure 29th postponement of the season
Last updated on .From the section Football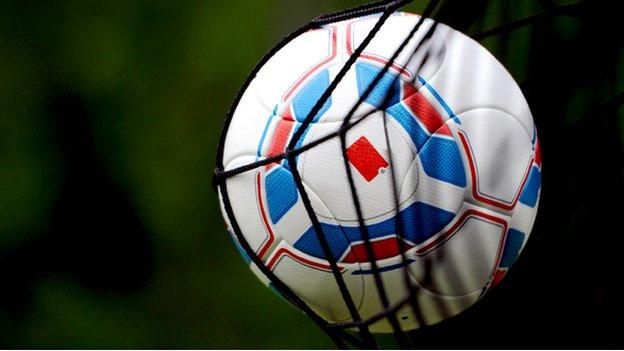 Bridgwater Town suffered their 29th postponement of the season when Monday's Southern League Division One South & West game against Sholing was called off.
The club have seen 20 games fall foul of the weather, while nine have had to be rearranged because of cup fixtures.
It means they now have 18 matches to play before 27 April.
"We now have to play three games every week," secretary Roger Palmer told BBC West Sport.
"We've just got to struggle on and try as best we can."
Bridgwater's first postponement because of the weather came on 24 November against Winchester, but the club were hit hardest over Christmas.
"Over that period it had a massive impact on us because we went so long without playing a home game," continued Palmer.
"We got into a bit of trouble with cash-flow problems. We were having very little money coming in, with no turnstile receipts, but our normal bills still had to be paid - in the region of £3000.
"Thankfully, our sponsors have helped us out and brought forward payments to get us through the crisis."
Bridgwater are 20th in the table, with as many as 10 games in hand over some of their rivals.
As well as having to play 17 domestic matches before the April cut-off date, the part-time outfit must also prepare for the Somerset Premier Cup semi-final against Taunton.
"Up until Christmas we were on a good run and had eight consecutive wins. Since then we've fallen apart," said Palmer.
"The availability of players is also going to be an issue as they need to get time off from their normal jobs for the midweek games."
And Palmer believes the postponements will have a long-term impact on the West Country side.
"Because of the stop-start season our crowds have gone down quite considerably. We're averaging about 150, whereas at the start of the season we were getting around 250 to 300," he said.
"Unfortunately, I think part of it is that people find other things to do. Once they stop coming it's hard to get them to come back."