Carl Ikeme: Wolves keeper breaks hand in outburst
Last updated on .From the section Football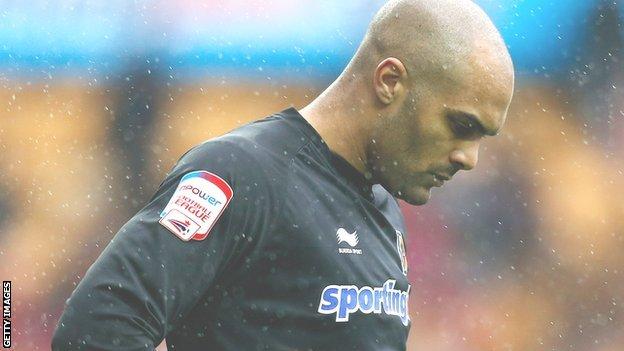 Wolves keeper Carl Ikeme may miss the rest of the season after breaking his hand in Saturday's crucial 2-1 home win over relegation rivals Bristol City.
Ikeme's injury did not happen on the pitch, as initially suggested by Wolves boss Dean Saunders, but during a half-time dressing room outburst.
Saunders has confirmed that Ikeme broke a bone in his hand after punching a tactics board following heated words.
Wolves also appear to have lost Bakary Sako and Dave Edwards for the season.
Sako pulled his hamstring, while Edwards went off with a foot injury in the battle of the Championship's bottom two, which followed the Dave Davis own goal that left both the midfielder and Ikeme red-faced, earned the visitors a surprise lead and led to Saunders venting his anger during the interval.
While second-choice keeper Dorus de Vries, Ikeme's half-time replacement, will continue to deputise, Aaron McCarey has had to be recalled from his loan spell at neighbours Walsall.
Saturday's incident appeared to have a positive effect on Wolves, who came back to win with goals from Sylvan Ebanks-Blake and Kevin Doyle.
Saunders said Ikeme, 26, is distraught by the consequences of the injury, which occurred as a result of his hand making forceful contact with the metal bar supporting the dressing-room tactics board.
"I've spoken to him and he can barely talk to be honest," Saunders told Wolves' website. "He's that disappointed.
"Carl is more critical of himself than anybody. It is his first season that he's been the number one keeper and now he has lost that.
"He was frustrated at making his mistake and punched the tactics board, which is only cardboard, but there is a metal bar at the back of it.
"He has not meant to break his hand. Kevin Doyle kicked the corner flag after scoring his goal and could have ended up breaking his foot.
"Every single one of us has punched something or pushed something out of frustration but you don't expect to cause yourself injury."
Saunders also explained that he was trying to protect his player in initially claiming that the injury had happened on the pitch.
"I just tried to protect Carl after the game because, with the situation we're in, it wasn't something I wanted to talk about," he said.
"I am forever 'rollocking' the players. What is said in the dressing room doesn't normally come out of there.
"If something happens in there, within a week it's all done. It's the sort of thing that happens in all football clubs.
"But, now it has all come out, I have a responsibility to let the supporters know why Carl's not available to play."