Mensah looks to rebuild career with French club Rennes
By Oluwashina Okeleji
BBC Sport, Reims
Last updated on .From the section Football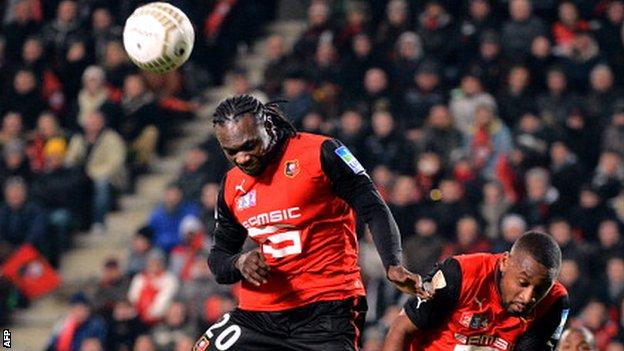 Former Sunderland defender John Mensah says he is keen to get an extended run of football at French side Rennes after overcoming his injury woes.
Mensah's career has been dogged by persistent injury that has cost him the Ghana captaincy and his place in the Black Stars squad.
Similar setbacks cost him a permanent deal at English side Sunderland and led to a contract termination at parent club Lyon last summer.
He rejoined Stade Rennes in January.
Now, the 30-year-old is focused on breaking into the first team.
"I was a bit unlucky with injuries and spent a bit of time out of the game," Mensah told BBC Sport in France.
"It's difficult when you come back from a long injury; it's very hard because you are afraid of suffering another setback.
"Sometimes I get frustrated, but what else can I do? Injury is part of football so there is nothing I can do.
"There were hard moments with the doctors and physios - but those tough days are well behind me.
"Right now I'm fully fit but I need games to regain my confidence and a place in the squad.
"It's tough because the regular players are doing well. It hasn't been easy but I understand how difficult it is for the manager as well."
Mensah is now three months into a six-month deal, and is hoping to extend his stay at the club he captained in 2008.
"They know what I'm capable of doing when I'm fit and on the pitch from my previous stay here," he said.
"I got the chance to come here. I hope I'll also get the chance to play and prove my injury days are well behind me."
Nicknamed 'The Rock of Gibraltar' in his native Ghana on account of his reliability in defence, Mensah is looking back at his best days for motivation.
"At Sunderland I put in a great performance, same at Lyon. I thank God that what I did in England is still being appreciated by the fans," said Mensah, who was a firm favourite with the Black Cats spporters.
"For now I am not thinking of the national team, I know if I get to play regularly with Rennes, I could get a chance to return for Ghana.
"Some people expected me back as the captain but realistically, I need to earn my return with regular action and full fitness to be recalled."
The former Ghana captain spent six years in Italy before moving to France in January 2006.
He played 67 games for Lyon between 2008 and 2012.
Mensah has 82 Ghana caps but did not make the squad for this year's Africa Cup of Nations in South Africa.