Premier League against 2022 World Cup winter switch
Last updated on .From the section Football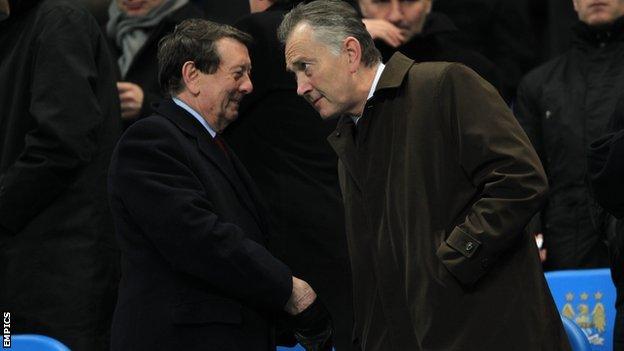 The Premier League says it is opposed to the 2022 World Cup in Qatar being switched to winter, despite comments from chairman Sir Dave Richards.
There are concerns over the heat in Qatar in the summer and Richards seemed to back the tournament being moved.
But a Premier League spokesman said its "view remains unchanged".
"We are opposed to a winter World Cup for obvious practical reasons that would impact on all European domestic football," the spokesman added.
Britain's Fifa vice-president Jim Boyce told BBC Radio 5 live that the tournament should be played at the beginning of the year to minimise the dangers of excessive heat, and that the Premier League should agree to a winter break to accommodate it.
"Forget about the fact Qatar say they can air condition stadiums, you have to think of the thousands of supporters travelling to what is the greatest football event in the calendar and you're going to be asking them to travel in a country with temperatures exceeding 45 degrees," he said.
"I don't think it's healthy and I don't think it's feasible so my idea would be to play the tournament in the January.
"Many other countries have a winter break. This is a one-off, for one year, if it's going to promote the tournament better and give better facilities for players and spectators I think it has to be seriously looked at."
Fifa general secretary Jerome Valcke recently became the first senior official of world football's governing body to say the 2022 World Cup could be moved depending on medical advice.
Uefa president Michel Platini and world footballers' union FIFPro have supported the tournament, which is traditionally played in June and July, taking place in winter on health grounds.
Temperatures in Qatar can reach 50C (122F) during the summer.
"At the moment it has a tremendous amount of implications for Europe. For us, at this minute, the answer is 'no'," Richards told Sky Sports News.
"But, if we take a proper view, we have to find a way to have a winter spell where we don't play and I think common sense will prevail.
"I think over the next few years, things will change and they will come to a compromise."