Dunfermline: Jim Jefferies hopes fresh fan interest can save the club

By Brian McLauchlin
BBC Scotland
Last updated on .From the section Football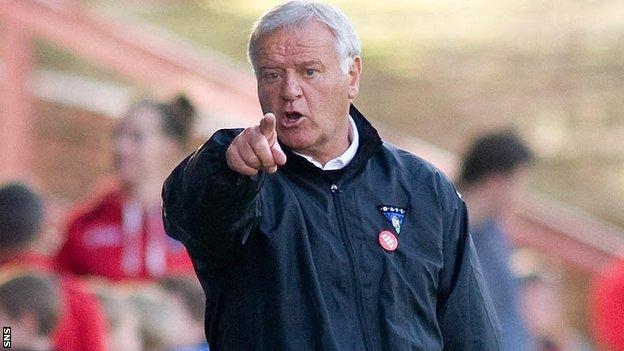 Manager Jim Jefferies remains hopeful Dunfermline Athletic can be saved, despite the club being told liquidators will step in if a tax bill of £134,000 is not paid within eight days.
HMRC served a petition for liquidation at the Court of Session in Edinburgh.
A number of fans have expressed an interest in making substantial investments and will talk with club majority shareholder Gavin Masterton.
"There's always hope while there's time," Jefferies told BBC Scotland.
A steering group, headed by East End Park hero Jim Leishman, has been seeking a solution to the club's parlous condition.
"We got Jim Leishman down to speak to the players, myself and the staff to give us an update of what's been going on and what position we're in.
"They did state that time's against them but they're still working very hard behind the scenes, putting a lot of time and effort in, and the players appreciate that.
"They're working hard trying to put everything together to stave off the liquidators. Every extension they get is vital."
On Friday, it was announced that fans group The Pars Community had failed in a deal to buy Masterton's shareholding for £500,000.
But since then others fans have intimated they might be able to help salvage the situation the Fife club finds itself in.
And a statement from Dunfermline revealed that the current board were sufficiently comfortable with proposals put forward by the steering group to allow due diligence to commence, which began on Monday.
"It's now about discussing the situation with them and seeing if there's a way forward," said Jefferies.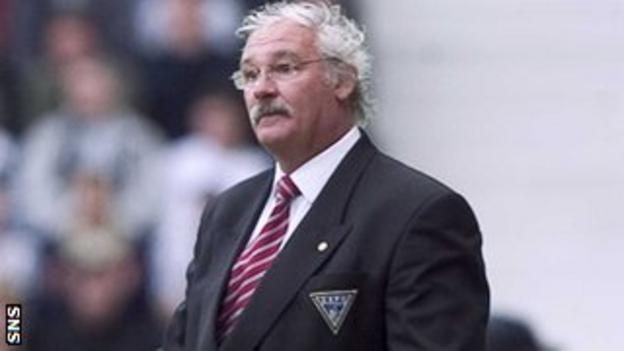 "It's very difficult when there's a lot of people involved because they've all got their different agendas.
"We just hope that there's some common ground that comes from this and they can get round the table very quickly.
"At this stage Jim and the steering group have informed us they have an accountant in there doing due diligence, finding out what the club's about before anything can be finalised.
"That could take a few days and they'll report back to us on Friday with an update."
Jefferies complimented the playing squad at Dunfermline for doing all they can on the pitch for the club.
That is despite them having to put up with partial and late payments of wages in recent weeks.
"They've shrugged aside this disappointment and frustration of not being paid once they knew how serious the situation was," Jefferies said.
"In previous weeks before that, nothing was said other than 'it'll all be sorted out' and it went on for weeks, months.
"That's the bit that was frustrating about it, being told 'we'll be okay' then nothing came of it and suddenly, bang, we're hit with this news that we were struggling.
"Once it was explained to us, the players have just got on and tried to do their bit on the pitch the last couple of weeks."
Meanwhile, Partick Thistle is the latest club to try and help out Dunfermline in their cash crisis by offering to donate a portion of the gate receipts when the teams meet on 27 April.
They say that if more than 500 Pars fans turn up for the match, they will pay the net income from the number in excess of that to a fund for the players' wages.
"It's a fantastic gesture," added Jefferies.
"It's a bigger game than playing as a game for promotion; this is about keeping the club alive."
Dunfermline host Dumbarton on Saturday and Jefferies is keen for as many fans as possible to come and support his side.