Sheffield United: Neill Collins calls for response
Last updated on .From the section Football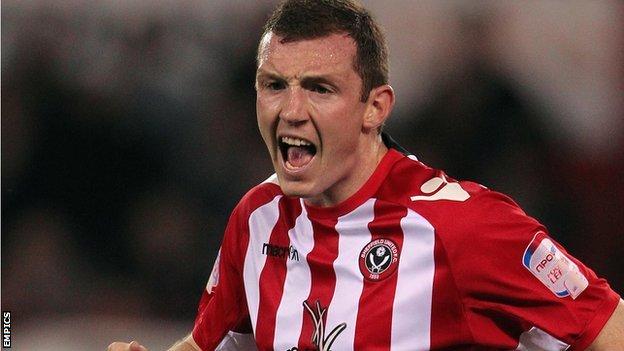 Sheffield United defender Neill Collins believes professional pride will be a key factor when the Blades take on promotion rivals Brentford on Saturday.
"It's one of the worst defeats we've had and not something we're used to," he told BBC Radio Sheffield.
"But coming off the back of such a bad defeat focuses the mind and we're looking forward to Brentford."
Collins pointed to the example set by Everton in recent weeks, who after losing badly to Wigan in the FA Cup quarter-finals went out and beat Manchester City in their next game.
"A professional footballer's pride is always hurt after a defeat like that and hopefully we can respond like Everton did, with everybody pulling together," he said.
"It felt almost patronising clapping our supporters who travelled to Stevenage, and hopefully we can repay them."
The Scot insisted the Blades had not been complacent, despite having beaten Stevenage twice earlier in the season.
"We're where we are because we're good professionals who work hard. They played well, to give them credit, but we caused our own problems with individual mistakes.
"I've been in football long enough to know these things happen, and it's all about how you respond to them. It's where we finish up at the end of the season that counts."
Brentford beat United 2-0 at Griffin Park at the end of November, but Collins said he did not believe the result would have an impact on Saturday's return.
"That was probably our second worst performance of the season, though in the second half we were excellent and should have got something out of the game.
"To be honest our biggest threat is ourselves - if we perform the way we can do and focus on ourselves and getting our performances right I think we'll be fine.
"We've not lost too many games and hopefully we can go on another unbeaten run until the end of the season and see where that leaves us. If it has to be the play-offs, it has to be, but all our focus is on finishing in the top two."