Neville Southall fears sack for Coleman if Wales lose in Scotland
Last updated on .From the section Football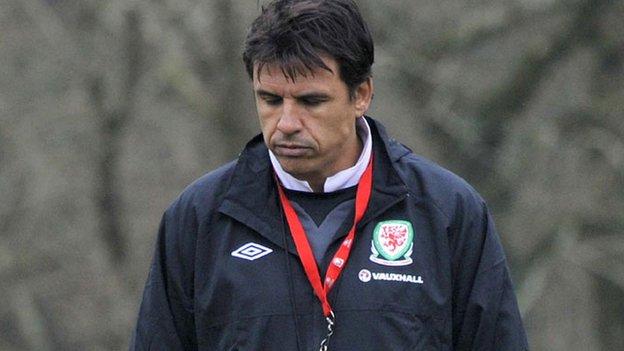 Neville Southall fears the knives will be out for manager Chris Coleman if Wales lose to Scotland in their World Cup qualifying match on Friday.
Record cap holder Southall warned: "Personally I wouldn't sack him, but if we lose there will be a lot of people queuing up to put a knife in his back."
The match is Scottish boss Gordon Strachan's first competitive game.
Coleman, who has overseen just two wins from his seven games in charge, took over the Wales job in January 2012 following the death of Gary Speed, and Southall believes he has not had long enough to stamp his style on the team.
But Southall, capped 92 times, fears poor crowds for home matches and disappointing defeats away from home mean the pressure is building on Coleman to deliver success.
"Strachan will be given another chance, but I think with ours it [defeat] could nail the coffin for the manager," said the former Everton goalkeeper.
"We are really struggling to get people in the door and when you have a player like Gareth Bale I find that hard to understand, so we really need to win this one.
"I think they should give him [Coleman] until the end of the campaign and have a look then, or give him another year.
"At the end of the day we have a certain number of players to choose from, you need stability and you need people to put things in place and he hasn't had enough time.
"If you are in the job for a year you have players for five days over six games which is 30 days, it is really hard to build a successful business in 30 days or in 50 days.
"We need to give him a bit of time."