Leeds United: Owners GFH Capital ready to sell stake in club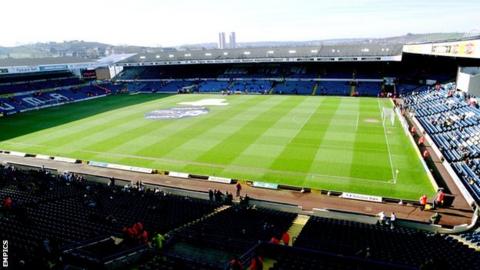 Leeds United owners Bahrain-based GFH Capital are ready to sell an unspecified share in the club.
According to their parent company's recent financial statement, GFH is negotiating to sell the club for £7m more than the £22m they paid.
But a statement on the club website said: "GFH Capital is looking for investment in part of its share in the club, not its entirety."
GFH Capital only completed its takeover of Leeds on 21 December last year.
The statement reads: "In March 2013, Gulf Finance House (GFH), parent company of Leeds United FC owner GFH Capital, published its financial audited report that stated it was looking to sell its stake in the club. To clarify and as previously stated, GFH Capital is looking for investment in part of its share in the club, not its entirety.
"GFH Capital has been transparent since acquiring Leeds United and is continuing to look for strategic investors in part of the club that can invest in Leeds United, alongside GFH Capital, to ensure a long term, sustainable future.
"Since GFH Capital took ownership of Leeds United, it has fulfilled its promise of investing in the club, with around £10 million having already been injected into the club; to strengthen the squad and for other working capital purposes. Additional financial support will continue to be provided as required.
"To date, GFH Capital has fulfilled the plans pledged and its strategy for the club remains the same; to build a group of strategic investors to put Leeds United in the best position both on and off pitch for the long term."
The news adds to the instability which has surrounded the club this season.
Manager Neil Warnock has indicated he will leave at the end of the season if Leeds are not promoted. The club is seven points adrift of the Championship play-offs with eight games to play.
In their financial statements for the year to 31 December 2012, published earlier this month, Gulf Finance House (GFH) describes the club as a "bargain purchase".
The statement also confirms GFH paid "net cash" of $33m (c£22m), and believes Leeds to be worth $10m (c£7m) more.
It continues: "The group has an active plan to sell its stake in LUFC Holdings [the company which now owns Leeds].
"Subsequent to the year end, [GFH] has commenced negotiations relating to the sale of its stake in LUFC Holdings."