Sean St Ledger: Leicester defender over injury nightmare
Last updated on .From the section Football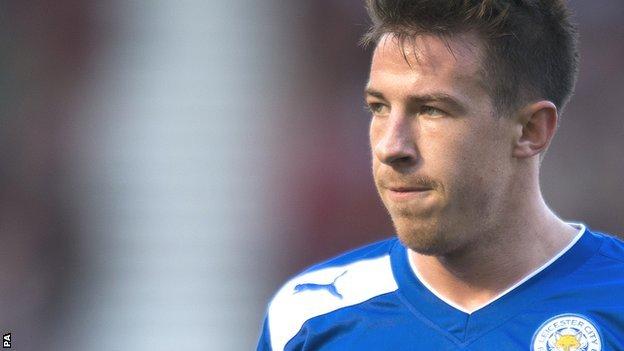 Leicester City defender Sean St Ledger hopes his visit to one of the world's best sports surgeons in Germany has put an end to an injury-ravaged six months.
But he returned as a substitute in the 1-0 defeat by Sheffield Wednesday.
St Ledger said he was grateful to be treated by Bayern Munich club doctor Hans-Wilhelm Müller-Wohlfahrt.
Michael Owen and Steven Gerrard both saw Müller-Wohlfahrt and they are not the only famous names he has tended to.
"I was sat in the waiting room with Arjen Robben and Miraslav Klose," St Ledger told BBC Radio Leicester. "I also spotted a signed Usain Bolt shoe.
"He said he had trained the best in the world, so when you know these types of people have been there you realise Leicester have done well sending me to a really good place."
Centre-half St Ledger has started both games since the loss to the Owls and his comeback has come as a boost for a Leicester side struggling for form.
The Foxes have not won in five games and are only in the play-off positions on goal difference -they had been victorious in all six league matches St Ledger played before his hamstring injury in October.
He is now delighted to back after a frustrating time, although admits he began to adjust to being on the sidelines.
"I know this sounds bad, but I think the more injuries you get, the more you get used to it," he said. "The first one I got I was a nightmare, telling the physio I was fit and I wanted to travel. He told me I wasn't and you have to take their advice as they're the professionals.
"But as I got more injuries you tend to realise that rest is the most important thing. Especially with this injury - I tried to come back, probably a little bit too soon and then I wasn't ready and that was the cause of the big one.
"You just have to rest and make sure it heals properly."