Newport call for Blue Square Bet Premier season to be extended
Last updated on .From the section Football29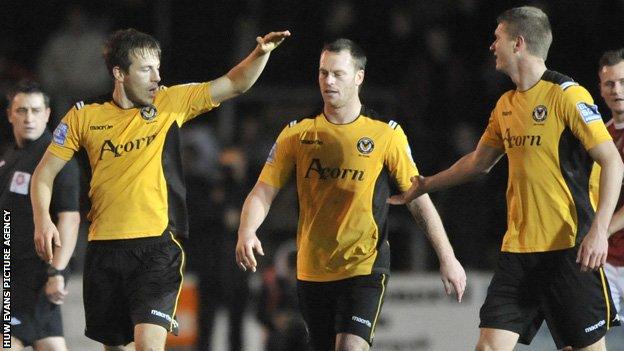 Newport County have reiterated their call for the Blue Square Bet Premier season to be extended to help ease their fixture backlog.
But County fear their plea will be rejected as the Conference insists on staging the play-off final at Wembley.
"The Conference are not prepared to push the fixtures back because Wembley is booked," said Tim Harris, the Newport director of football.
A spate of postponements due to weather means County face 11 games in a month.
The play-off final has been set for 5 May - 16 days after the final league fixtures.
The play-off semi-finals will be played on 23/24 and 28 April, and Conference general manager Dennis Strudwick has already ruled out making any changes to the schedule.
But Harris said: "Our preferred option is for the league to move the deadline back a week and give everyone a bit of breathing space.
"They should manage it in a professional manner and look for an alternative venue for the play-off final.
"Whoever gets to the play-off final, it's highly unlikely Wembley is going to be filled so what is wrong with going to somewhere like Old Trafford or Villa Park or the Emirates Stadium?
"They are fantastic stadiums that would grace the play-off final. But I'm talking emotionally and it's highly unlikely that's going to happen."
Harris's frustrations were compounded on Wednesday when Newport's match against Gateshead was postponed for a fourth time.
The pitch at York's Bootham Crescent was deemed unplayable after an inspection 24 hours before the scheduled kick-off.
Gateshead have not played at their own ground since January because of pitch problems, and have used three different venues. A further two stadiums - Middlesbrough's Riverside Stadium and Carlisle's Brunton Park - will be used before the end of the season.
"It's a ludicrous situation. It's laughable for a league of this stature to allow such things to be happening," added Harris.
"We're fed up of the whole episode. I think the league should have been a lot stronger."
A spate of recent postponements - at home and away - has left Newport with a backlog that Harris says places an unreasonable demand on the club, who are in contention for the title. The Welsh club are eight points behind leaders Kidderminster with four games in hand.
"We're not just talking about the individual footballers, we're talking about the back-room staff, the volunteers, the supporters that have already spent a lot of money," he said.