Premier League's Scudamore explains Creating Chances
By Richard Scudamore
Premier League chief executive
Last updated on .From the section Football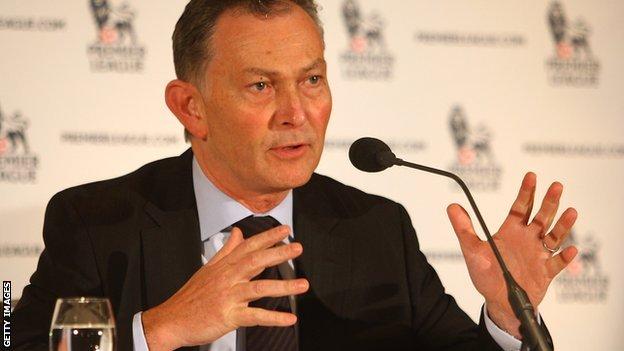 In the past week you will have seen this website, along with all the other newspapers and sports programming, filled with stories from different areas of the game.
This also creates a huge opportunity, as the compelling and competitive nature of Premier League football that drives much of this coverage allows us, and our member clubs, to deliver a far-reaching programme of community investment. This activity is positively affecting hundreds of thousands of peoples' lives every year.
On Thursday we launched our annual Creating Chances report, which shows that during 2012 there were more than half a million participants in Premier League club community initiatives staffed by 1,600 club employees as £45m of Premier League money was invested in 843 club projects across the top six tiers of English football.
The scale and reach of what is being achieved is undeniable. No other sporting body in this country gets close, and certainly none of the other major European leagues.
We have long recognised that our position at the top of the most popular sport in this country is a privilege. And we understand the responsibilities that come with that.
So, while we are today celebrating our clubs' commitment to investing in and engaging with their communities during 2012 this is not something we just started last year.
Since 2001 the Premier League has redistributed - outside the Premier League - £1.35bn. That is an enormous figure that has benefited every single level of the English game.
Whether it is community and grassroots investment, Conference and Football League solidarity payments, sports participation and facilities programmes, or partnering with government departments to deliver education, health and social inclusion projects, our clubs are doing it and paying for it.
Should we be doing more? In a sense you can always do more, but every time our revenues have grown, so has the amount of money going to community and the rest of the game.
As Lord Coe says in the latest report, the Premier League is doing its bit.
The reason we can do our bit is that we have a strong, compelling, successful, elite football competition that drives interest.
Our clubs work hard investing in buying and developing players as well as building and revamping stadiums. That is their core business and the increase in attendances and viewing figures is testament to the fine job they are doing.
This season, Premier League stadiums are 95% full - the highest level of occupancy of all the European leagues and an outstanding achievement given the economic difficulties facing the country.
And if that interest and commitment from the fans on a matchday in some way translates into the thirst for the talking points that dominate the football news agenda, then I can live with that. That appetite enables clubs to keep investing in these areas.
I want as competitive a league as possible, with qualification for European competition a realistic aim for all clubs, as well as our Champions League clubs being able to keep competing with the likes of Real Madrid, Juventus, Bayern Munich and Paris St-Germain.
This is critical to the continued sporting success of the Premier League, maintaining the historically high levels of interest we are enjoying and the ability to be doing all the fantastic work detailed in the Creating Chances report, and more, for years to come.