Hearts: Peter Houston was offered manager terms
Last updated on .From the section Football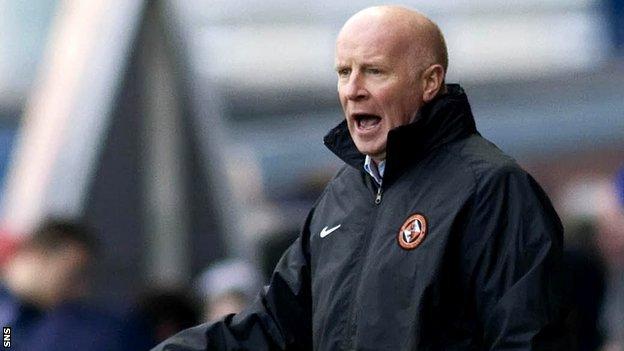 Former Dundee United manager Peter Houston has revealed he was offered initial terms to become Hearts manager.
He told BBC Scotland's Sportsound programme that Hearts director Sergejus Fedotovas had contacted him about the job, and that he felt in a strong position to take on the role.
"I was confident. There was an offer made," said Houston.
"Everything was subject to board approval, the board approval went with Gary [Locke]."
The Hearts job became vacant when John McGlynn left the club at the end of February, while Houston left as Dundee United manager in January.
But Houston insisted finances had nothing to do with him not being given the Tynecastle job.
"My agent spoke to Mr Fedotovas and that evening I had an email with regard to heads of terms, and that was to get sorted out Monday or Tuesday," he said.
"I never heard anything Monday or Tuesday. It certainly wasn't a financial thing that was going to stop it."
However, the former Scotland assistant also revealed that the terms he was offered were longer than the season and a half given to Locke.
"What we'd put in the heads of terms was the end of this season plus two," said Houston.
"Hearts seemed happy with that and I'd heard that Sergejus Fedotovas was happy with that."
Houston also maintained that he had been told by Hearts board members that he was the only candidate spoken to.
"It was maybe me and Gary, if there was a shortlist," he said.
Despite not getting the job, Houston insisted the club had made a good appointment in giving Locke the job until the end of next season.
"If I'd got the job I would have kept Gary as first team coach," he said.
"I like him as a person and I think he's developed into a very good coach.
"The best thing they've done is give it to him till the end of next season, because the work for Hearts for next season has to start now.
"There's about 20 players out of contract, so Gary's going to have to look at that and see what's left at the end of the season."
However, Houston insisted that, despite budget cuts, Hearts should remain competitive in the Scottish Premier League.
"I've got to be honest, it was a budget that was good enough to do well in the SPL," he maintained.
"It's going to be still a budget as good as anything outwith Celtic in my opinion."
When asked if he was interested in the vacancy at former club Falkirk, Houston said he preferred to manage at a higher level.
"It's a club I always watch for the results, but to be honest I'd rather be working at SPL-level, minimum," he said.
"I know there's one or two names in the frame for the Falkirk job, but I haven't applied for it."