Callum McManaman: Massadio Haidara calls for protection
Last updated on .From the section Football495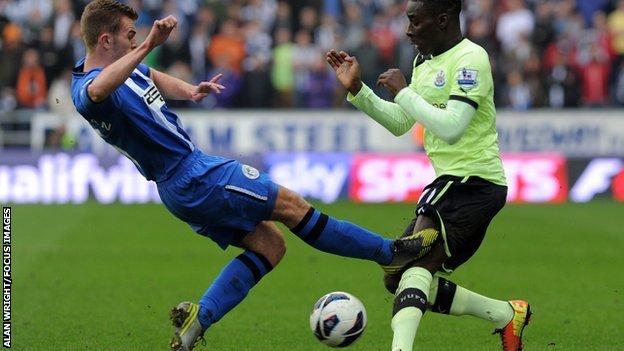 Newcastle's Massadio Haidara has called the Football Association's decision not to punish Wigan forward Callum McManaman "ridiculous".
But Haidara said the FA need to do more to protect players.
He said: "He could have ended my career and ruined my whole life and he will play again before me. Ridiculous."
Haidara, who escaped serious injury, told French newspaper Le Parisien: "You must protect players.
"This type of tackle cannot be condoned in football. You have to take all measures to ban these sorts of things from the game. It spoils the match. The authorities must take action."
The FA said it could not take action as its rules
But Newcastle managing director Derek Llambias described the FA's disciplinary process as "not fit for purpose" and Haidara admitted seeing the tackle go unpunished was difficult for him to accept.
McManaman got a slight touch on the ball before following through and catching the defender on the knee and thigh during Wigan's
Haidara, who joined from Nancy on a five-and-a-half-year deal in January, said the tackle left him in "excruciating pain" and thinking "he'd snapped my leg in two".
He added: "The ligaments in the knee are undamaged. It's a massive relief, I was very worried when it happened.
"I thought he'd broken my leg or smashed up my knee. The pain was unbearable, I couldn't bend my knee. It was really horrible."
Left-back Haidara, 20, admits he is still in "shock" over the tackle, which he calls the worst he has seen in football, adding: "It sends shivers down my spine when I think of it."
The Frenchman said he would be prepared to meet with McManaman in the future, if he wished to apologise, and said he hoped the 21-year-old has learned his lesson and will "think twice before making a tackle like that".
Meanwhile, Premier League chief executive Richard Scudamore has insisted McManaman, 21, should have been charged by the FA for his challenge. Despite the incident happening in a Premier League match, the Football Association is responsible for the disciplinary procedures.
Scudamore said this should have been treated as an "exceptional case", which gives the power to reassess some incidents, even if seen by officials.
"I don't think anybody in the Premier League, perhaps bar Wigan, would have complained had they decided this was exceptional," he said.
"That's where the Premier League is on this, I don't think the rules need changing, I don't think the line needs moving.
"If they have the ability to deal with an exceptional incident, it looked to most of us that was an exceptional incident."