Rangers: Ally McCoist promotion call over league shake-up
Last updated on .From the section Football367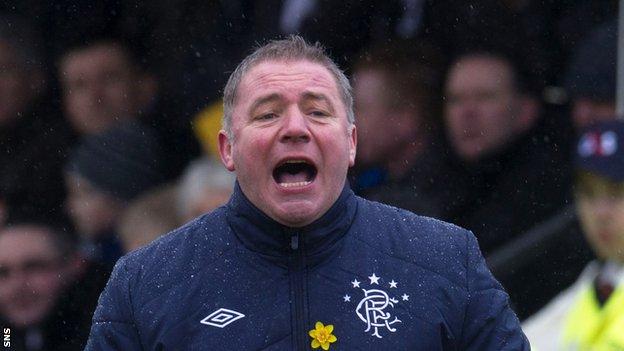 Manager Ally McCoist believes Rangers should be promoted to the second tier, if the 12-12-18 league format is implemented.
McCoist told Rangers TV that the club should earn promotion in the event of winning the title.
"Scottish football's in a sorry state so we have to do what's best for the benefit of the game," McCoist said.
Eleven votes are required for a move to a structure of two top leagues of 12, which would split into three leagues of eight midway through the season.
McCoist expressed concern that Rangers may be in the league of 18 despite closing in on the Third Division title.
"In our eyes, if 12-12-18 is implemented and we are in the 18 then I don't see us getting promotion," he said.
"The argument would be that we would in the third tier but I don't buy that because every other team in the league would be getting promotion with us.
"I don't think that is fair - especially when a precedent has been set. Stranraer won the bottom tier in 1994 and were promoted two divisions due to reconstruction.
"All we have ever wanted is fairness and if the precedent has been set then we imagine that it should be applied again."
McCoist believes promoting Rangers would benefit the game in Scotland.
"Dunfermline are clearly in trouble just now, Hearts have troubles too and we have obviously had our well-documented problems so we must do something that is mutually beneficial to Scottish football," he added.
"If moving us into the second 12 means that there will be such a benefit then surely it has to happen."