Scotland: Gordon Strachan plots winning competitive debut
Last updated on .From the section Football60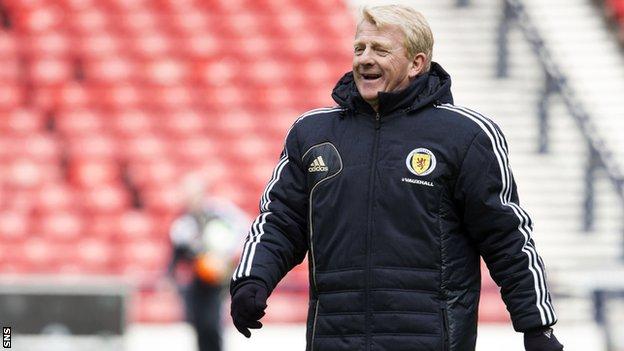 Gordon Strachan is aiming for victory over Wales in his first competitive game in charge of Scotland.
The sides meet in World Cup qualifying Group A at Hampden on Friday, with Strachan content with his preparations.
"We've been working on our system all week at training," he said. "It's up to the players now to do what they are good at.
"Every team has strengths and weaknesses and the players are aware of dangers in the Welsh team."
And, speaking from the team's headquarters in Renfrewshire, Strachan added: "I've enjoyed the challenge of picking the 11 that are suitable for the game tomorrow.
"If we play to our potential then I'm expecting us to cause them problems."
Responding to comments by former Wales winger Mickey Thomas that the current Scotland team is the nation's worst ever, the manager said he would not expect what anybody else says to increase the squad's motivation to play well.
"I played with Mickey and it is a bold statement," said Strachan.
"To validate that you would need to be about 150-years-old and I know Mickey is looking a bit old, but not 150-years-old.
Strachan joked: "In saying that, he is liable to have a passport that says 150 years on it.
"Mickey is always good fun whenever you meet him so I take it with a pinch of salt.
"A result means we feel good about ourselves but a result and a performance means we feel very good about ourselves.
"But the win is what we are looking for. Results make people feel better. We talk of style and this and that, but as fans and players, we really just want to win."
Strachan guided Scotland to victory last month in his first game in charge, a 1-0 win over Estonia at Pittodrie.
And he is keen for his side to claim maximum points at Hampden on Friday.
"We are going to put trust in 11 players," he said.
"I could trust 26, that's for sure, but unfortunately I can only pick 11 and that has been hard."