Jersey Wanderers is saved from closure after financial problems
Last updated on .From the section Football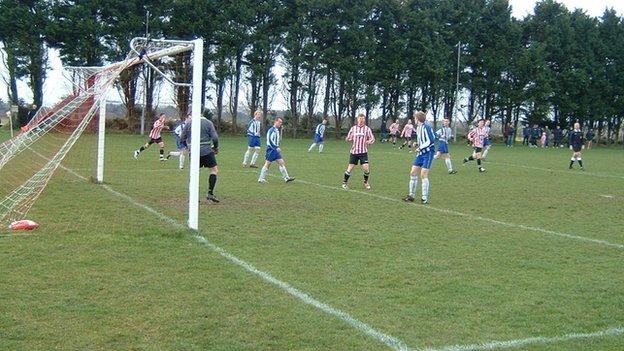 Jersey's oldest football club, Jersey Wanderers, has been saved from closure.
The team, which was formed in 1895, won the last of their record 20 Jersey league titles in 1990 and have also won 11 Channel Island crowns.
But their financial situation had got to the stage where they were struggling to survive until the end of the season.
However, former player Nigel Le Quesne has stepped in to sponsor the club, which has 13 teams, for the next three years through his firm JTC Group.
"It was desperate," he told BBC Radio Jersey. "They were certainly struggling to fulfil their fixtures for the rest of this season and clearly were faced with, if they did make it, winding the whole thing up in the summer.
"We've got a three-year commitment and plans to make sure the financial base of the club is on a much firmer footing way beyond those three years so we don't face what we did a month or so ago again."
Wanderers' first team are currently second in Jersey's Premiership, their women's team are fourth in the island league and their under 18's side are once again challenging for the Jersey title.
"Football has become the poor relation of corporate sponsorship, relative to rugby in particular, in the island," Le Quesne added.
"I felt that Jersey Wanderers, having been around since 1895, and Jersey's oldest club, deserved support."