Wojciech Szczesny sorry for father's Arsene Wenger comments
Last updated on .From the section Football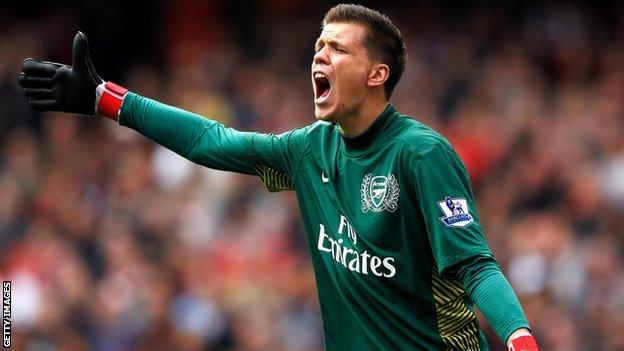 Arsenal keeper Wojciech Szczesny has apologised for his father's comments after he accused Gunners manager Arsene Wenger of using his son as a scapegoat for the club's poor season.
"I would like to apologise for the comments made by my father," he said. "I'd like to make it clear those were the views of my father and not mine."
Szczesny's father, Maciej, a former Poland international, was quoted as saying on Wednesday: "Wenger's already started to look for the scapegoat. It is not the way the boss should behave.
"Wojciech has had two serious injuries. He played with one in April and May (last year). He shouldn't have agreed to play at that time, but the coach insisted.
"Wojciech did not train the whole week and then a warm-up on Friday and played the match on Saturday. He was naturally more susceptible to minor injuries and his form was going down.
"In my opinion Mr Wenger messed up a lot in April and May. I don't blame the young man who went along with his coach. His current lack of form is a result of those two months."
But Szczesny said: "Although I respect his views, I cannot accept them as I find them disrespectful to the club I truly love.
"I have been at Arsenal Football Club for seven years now and I have always shown my full respect to the club, Arsene Wenger, all the coaching staff, my team-mates and the fans.
"I've always felt I received great support from the manager and the fans and I am fully focused on getting back to my best.
"I am proud to be a part of Arsenal and I see my future at this great club."