Michael Owen says lack of games a factor in retirement decision
Last updated on .From the section Football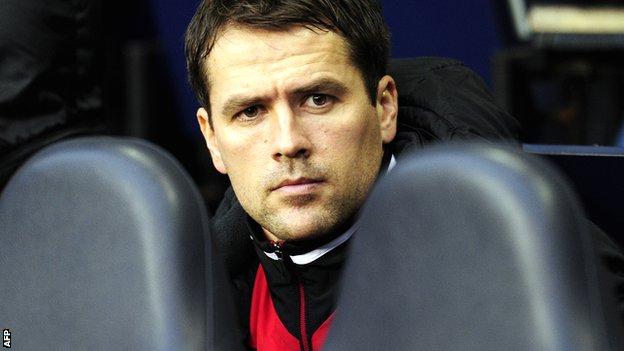 Former England striker Michael Owen says being unable to command a regular place at Stoke prompted his decision to retire at the end of the season.
The 33-year-old joined the Potters at the start of the season but has scored only one goal in seven starts.
"It would be wrong to blame fitness," he told his website. "It is either the manager's opinion I am not good enough or that I don't fit into the system."
However Owen added he had "total respect" for his manager's opinion.
He now plans to set up a company to guide young players through the "pitfalls" of a football career.
The forward began his career at Liverpool and averaged more than a goal every other game for the Anfield club before joining Real Madrid aged 24 in 2004.
Owen, who scored 40 goals in 89 internationals for England, also played for Newcastle and Manchester United before joining Stoke.
"Considering retirement was a gradual process but I had come to the decision before Christmas that this would be my final season in professional football although that wasn't quite the plan at the outset," he added.
"I had signed for Stoke with every intention of playing more football than I had in recent seasons.
"Looking at it realistically, things are unlikely to change in the remaining weeks of the season. And having played so little in recent years, the chances of me continuing to play at the top level look remote.
"There have been a number of offers to continue playing outside of the Premier League including several from abroad.
"And whilst going to play in an emerging market did cross my mind, with four children settled in school, my family's happiness takes priority. Having played for some of the greatest teams in Europe I have decided to exit the game while I'm still plying my trade in the top level of English football."
Hamstring trouble blighted Owen in the latter stages of his career, making the explosive burst of pace that inspired his most famous goal at the 1998 World Cup aged only 18 difficult to emulate.
"An emotion that lives with me is a sense of 'what might have been' had injuries not robbed me of my most lethal weapon - speed," he said.
"Many of my highlights were early on in my career and I can only wonder what more I would have achieved had my body been able to withstand the demands that I was making of it. I was almost too quick.
"My hamstring gave way in an away game at Leeds at the tender age of 19 and from that moment on my career as a professional footballer was compromised.
"I actually take great pride in the fact that, even when not fully fit, I still competed at the very highest level playing for some of the biggest clubs in the world. I have no doubt that had I not suffered those 'pace depriving' injuries, I would be sat here now with a sack full of awards and a long list records. However, how can I really have any regrets!"
Looking to the future, Owen is in discussions to continue with punditry work in the media and will launch his own management company in July.
"I have seen so many horror stories during my own career and have learnt plenty from my own experiences. With the team I have built around me, I feel genuinely excited by the opportunity of guiding some of our best talent through their formative years and beyond," he said.