England manager Roy Hodgson: No regrets over Rio Ferdinand

By Phil McNulty
Chief football writer, BBC Sport in Rimini
Last updated on .From the section Football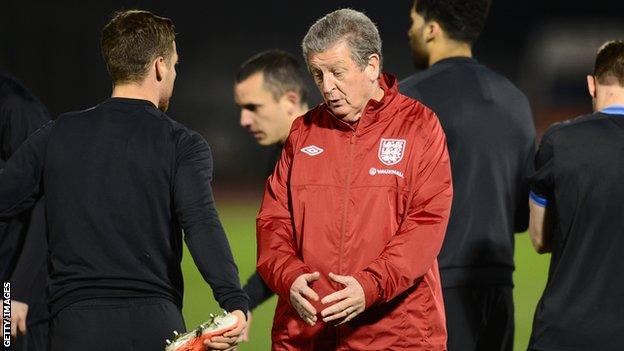 England manager Roy Hodgson has no regrets about recalling Rio Ferdinand despite the defender's withdrawal.
Ferdinand pulled out of the squad, saying his "intricate, pre-planned" fitness programme would not allow him to face San Marino and Montenegro.
It was then revealed he would be a match pundit for Qatar television.
Asked if he regrets bringing Ferdinand, 34, back, Hodgson said: "No, no. I don't. When I chose that squad of players I gave it a lot of thought."
He added: [It was] who deserved to be in the squad and who could help us win the two games. Rio was one of them.
"I was disappointed about it when he couldn't accept the invitation and it was a pity it couldn't come about this time but we move on with this squad of players."
Ferdinand won the last of his 81 caps in June 2011 against Switzerland. Hodgson said he had left the defender out of the Euro 2012 squad for "footballing reasons".
But Hodgson recalled the defender to face San Marino and Montenegro last week, saying: "It's a no-brainer. We need a good centre-half. He deserves it on current form."
On Thursday, the England boss was in guarded mood over Manchester United defender Ferdinand, but did suggest "wait and see" over whether he would ever win an 82nd cap for his country.
He refused to be drawn on whether he was surprised or disappointed that Ferdinand had taken the long flight to Doha after saying his specific fitness regime would not allow him to join up with England.
"It is not my business," said Hodgson. "I was disappointed, and I made this very clear, that Rio was not able to accept the invitation. He was not able to accept it for reasons you know.
"From that moment on, my focus was on who would replace him, and then replace two others who dropped out.
"It is not my business quite frankly. It is not my business to interfere with an individual player and his club. I don't think this is the right moment in time for me to be discussing Rio and what's happened now and what will happen in the future.
"I want to concentrate on these two matches and the players I'm working with. They deserve my respect as well. They're here. They want to be here and do a good job. I'm entitled to give them my full focus and attention and the matches my attention.
"I understand your interest in the Rio issue, but you should understand me as well. I'm here for San Marino v England and Montenegro v England."