Celtic and Rangers unite as community football plan takes off
By John Barnes
BBC Scotland
Last updated on .From the section Football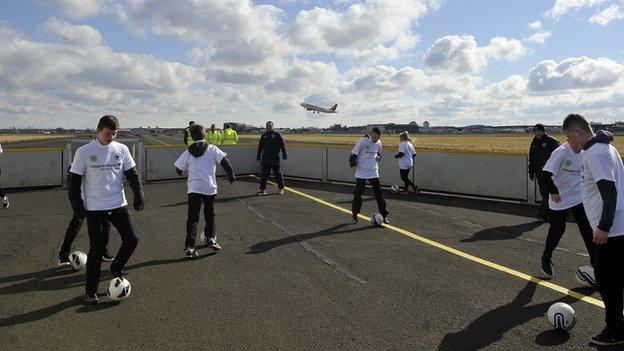 It is not every day that children get the chance to play football on the runway of Glasgow Airport but that is what happened as Celtic and Rangers helped to launch a new community initiative.
Glasgow Airport is committing £50,000 from its FlightPath Fund towards the cost of expanding educational youth football programmes in Clydebank and Drumchapel, with 280 young people set to benefit from more than 40 hours of coaching and workshops.
Pupils from Clydebank High and Drumchapel High were put through their paces by coaches from each club on the tarmac before taking part in a practice match on a mobile pitch supplied by Glasgow City Council.
Archie Hunter, independent chairman of the FlightPath Fund said: "The fund was set up by a combination of Glasgow Airport and its parent Heathrow and they fund activities to help the areas and communities that are directly affected by the flight path.
"The fund exists to help community projects such as the one we are seeing today.
"It helps kids in what have been socially deprived areas and where there has been a lot of anti-social behaviour. The idea is to direct their efforts and energy into things that are going to be worthwhile for them, and that led to football.
"The attraction of Rangers and Celtic, both iconic brands, provides a tremendous interest to these kids, so bringing the clubs into a project like this just helps our £50,000 go a lot further.
"It's quite heartening to see how these two clubs, classed as hot competitors, co-operate in an initiative like this."
The community departments of Celtic and Rangers work together in a series of projects across the city designed to tackle anti-social behaviour and sectarianism, while also increasing the number of young people taking part in physical activity.
The Glasgow Airport award will deliver 45 football-orientated sessions for children between the ages of 12 and 18.
The idea is to provide diversionary activities by holding these at evenings and weekends, when the incidence of youth disorder is highest.
In addition to the football games and coaching on offer, there is an educational focus with workshops tackling issues such as alcohol, drugs and sectarianism.