Women's Super League keen to build legacy
By Owen Phillips
BBC Sport
Last updated on .From the section Football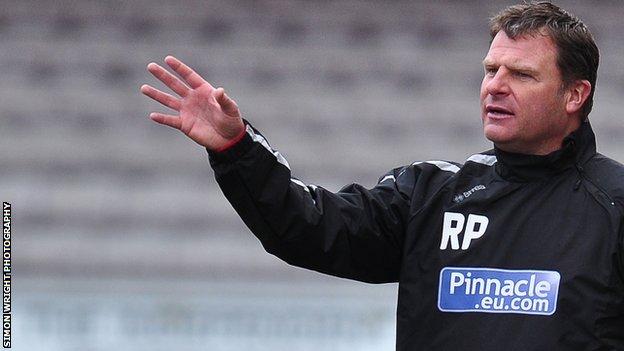 The 2013 season could be a pivotal one for women's football in England.
Lincoln Ladies manager Rick Passmoor wants his new team to be involved in ensuring the sport does not miss the chance to exploit its ever-growing reputation.
The euphoria, excitement and interest that the London Olympics generated around England's fourth-largest team sport have left it in a great place to attract new fans when the Women's Super League gets under way on Sunday.
Beyond the domestic league season, England are among the favourites for the European Championship in Sweden in July - a competition that can be seen on BBC Sport, with all England's Euro 2013 matches being screened live.
Passmoor, who took over at Lady Imps at the start of February, and has four England regulars in his squad, is relishing the chance to get his teeth into a long-term project with Lincoln - and help women's football make the most of its new-found popularity and move to the next level.
"It's a fantastic opportunity for the sport," Passmoor told BBC Sport. "And it's a fantastic sport to come and watch.
"Don't think that these girls can't play. The competitiveness is there and there is a real good technical side as well. The Olympics showed what quality there is.
"And the game wants to progress off the pitch and on it as well."
Passmoor hopes his four years at Leeds United Ladies and the knowledge he gained both on and off the pitch will help Lincoln grow.
"Hopefully that experience from being in and around the sport for so long will help to take club forward," he said.
"I will be working closely with the chairman [Luke Negus-Hill] and we are looking at five to 10 years down the line. We are looking at the long-term effect of what we are trying to develop with the players, coaches and staff so that the stability of the club is always there for future generations.
"We are not Blackburn and have 67 days. We have a fantastic chairman and great support from the city and internally as well. But we know there are barriers to overcome. So we know it's a long-term project.
"But my main focus is the performance of players and the team and that's how I will be measured.
"My remit is on the playing side. This football club want to be at the top and forefront of the development of the game so in years to come when people talk of Arsenal and Chelsea, they also talk of Lincoln Ladies. We want to be mentioned in the same breath.
"This season will be about developing players and players buying into what we think is the best way forward.
"Whether you are Casey Stoney with 100-odd caps for England or Martha Harris and have just made your debut, we are a team. There are no cliques and everyone is together and fighting for the cause.
"It would great to throw a marker down this season and show everybody our intentions, but there are no big predictions for this year. It's a learning programme about installing beliefs, values, philosophies and mission statements and it takes time."
That said, the start to the season has certainly been encouraging. Wins over Chelsea and Passmoor's former club Leeds have already taken the Lady Imps into the semi-finals of the FA Cup.
Sunday's league opener is against an ambitious new-look Liverpool side.
"The league programme is getting more and more challenging," Passmoor said. "There are quality teams and players throughout the league. Over the last 15 years it has been Arsenal who have dominated but the other teams are getting closer to them.
"Arsenal are a wonderful side and a credit to the women's game in the way they have maintained their standards for such a long period. And that's what we want to create here.
"We will be challenging up there, we want to be competitive and we want to be successful but we know there is a timescale and we know that we have to be able to attract one or two marquee signings but also develop our local players."
Key first team players Casey Stoney, Megan Harris and Remi Allen are all involved with the academy's coaching set-up. And former manager Glen Harris was named technical director of the centre of excellence when he was replaced by Passmoor in the summer.
Passmoor says the benefits of a one-club policy are huge.
"The youth policy is integral to the long-term plans," he said. "And Glen and his team at the centre of excellence are doing a terrific job.
"There is nothing better than a local Lincoln girl being inspired by seeing England players like Casey Stoney or Karen Bardsley, going to the centre of excellence and then playing for the first team. I have seen it before; you will get more from them. They want to play for the shirt and the city."