West Ham's Olympic Stadium deal is an 'unavoidable marriage'

By David Bond
BBC sports editor
Last updated on .From the section Football361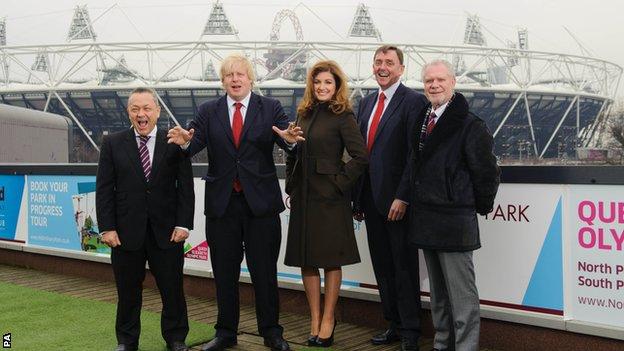 We have known for some time that a hefty wedge of public money would be needed to pay for the costs of retro-fitting an Olympic Stadium that really should have been made for football from the start.
To pay for it there is - as London Legacy Development Corporation chief executive Dennis Hone put it - a "cocktail of funding". But it is really not that complicated.
All but £15m of the money is coming from the taxpayer - either in the form of direct grants or loans which has prompted criticism that West Ham have got their new, iconic home on the cheap.
As you would expect, Mayor of London Boris Johnson insists this is simply not true, arguing that the 99-year lease with West Ham will help the Olympic Park and stadium generate revenues of £10m a year. Over the course of that lease, he says, the loans and public subsidies will be repaid.
He adds that to guarantee further protection for the public purse, West Ham's owners David Gold and David Sullivan have agreed to pay a one-off windfall back to LLDC in the event they sell the club in the next 10 years.
While that may help to convince those doubters who wonder at the wisdom of handing the Olympic Stadium's keys to a wealthy Premier League club for a relatively small sum (consider the £390m it cost Arsenal to build the Emirates Stadium), it may not persuade West Ham's rivals.
Putting Leyton Orient chairman Barry Hearn's legal challenge to one side, a number of Premier League clubs will no doubt be arching an eyebrow at the turbo boost the move will give West Ham's match-day revenues.
Given they have had to underwrite so little of the capital costs, how does that square with the League's new financial fair play rules?
All of this, of course, assumes West Ham will be capable of filling a venue almost double the size of their current Upton Park home. For all vice-chairman Karren Brady's confidence and drive, that will be no easy task.
Much will depend on whether it really feels like West Ham's own ground and herein lies the rub.
This was a stadium built and paid for by the British public and whoever inherits the deal from Johnson in the future will have to fight hard to protect that at the same time as keeping West Ham and their fans happy.
It would be a tragedy if the golden memories of London 2012 are erased in a hue of claret and blue.
However, the reality for any future Mayor of London is that this was an unavoidable marriage.
Failure to clinch an agreement with the only viable Premier League option would have left the public purse forking out for an underused, white elephant for decades to come - a disaster for an Olympic host that promised to do these things differently.