Doping trial doctor Fuentes claims that Real Madrid owe him money

By Matt Slater
BBC sports news reporter
Last updated on .From the section Football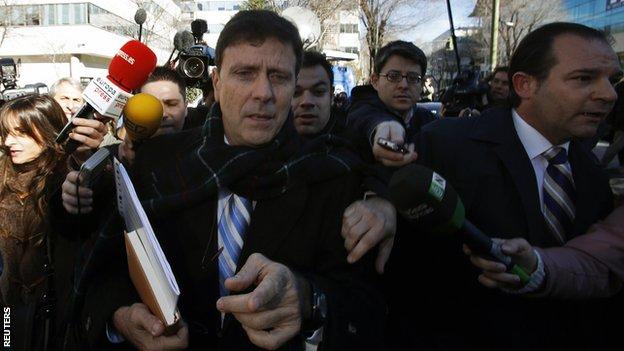 Eufemiano Fuentes, the doctor at the centre of the Operation Puerto blood-doping scandal, claims he is owed money by Real Madrid.
The self-styled sports doctor told Spanish radio that he is "interested in collecting a debt" from the club.
Real Madrid are suing him and say the debt is for expenses he incurred as a witness for them in a 2009 libel trial.
"We are happy to pay for his flight, hotel and food costs, but he has not given us any receipts," the club said.
This trial followed a series of reports in the French newspaper Le Monde, which claimed Real Madrid, fierce rivals Barcelona and other leading clubs in Spain used Fuentes' doping expertise.
Le Monde eventually lost the case and was forced to pay damages.
Fuentes is currently on trial in Madrid with four co-defendants for endangering public health, a charge he denies.
This stems from a series of police raids in 2006 that uncovered hundreds of bags of frozen blood and enormous quantities of performance-enhancing drugs.
Dozens of professional cyclists were immediately implicated in the scandal, including Tour de France stars such as Jan Ullrich, Tyler Hamilton and Ivan Basso.
But Fuentes, a gynaecologist by training, has repeatedly claimed that he treated a wide variety of sports stars at his clinics, including footballers.
He has always refused to name names, however, leading to feverish speculation in Spain and elsewhere about who might have been on his books. That might be about to change, though.
As doping was not a crime in Spain in 2006, the Spanish authorities have taken years to decide what to do about the embarrassing haul the Guardia Civil found at Fuentes' premises.
The eventual charge of endangering public health, which carries a maximum prison sentence of two years, only came about after lobbying from politicians worried about Spain's reputation for being soft on doping - a black mark for a country that has unsuccessfully bid for the last two Olympics and is trying again for 2020.
Earlier this week, Fuentes hinted inside and outside court that he may be willing to reveal his full client list to the World Anti-Doping Agency if it was mutually beneficial. He is also reported to be writing a book about his colourful career as a sports doctor.