San Marino 0-8 England: As close to pointless as it gets

By Phil McNulty
Chief football writer
Last updated on .From the section Football483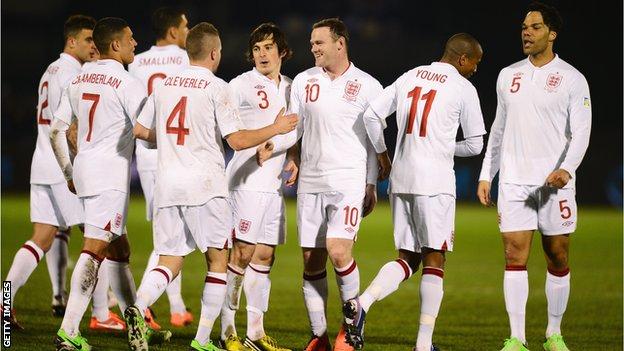 The announcer inside Stadio Olimpico di Seravalle may have reversed the name of every England player - prompting the chant "One Sturridge Daniel" - but nothing was reversing San Marino's standing as world football's most inviting punchbag.
In the latest monumental mismatch to act as hard evidence in support of World Cup pre-qualifying for countries such as San Marino, all England could do was offer up a swift, ruthless execution.
Roy Hodgson's side satisfied on all counts with an 8-0 win, their biggest for 26 years, and a tribute to their professionalism and concentration in this tiny republic with a population of only 30,000.
Hodgson stopped short of the time-honoured "no easy games in football" cliche in the build-up because if there is one this is it. And for pretty much every one of these 90 minutes San Marino did their best to prove the point quite spectacularly.
Highlights for the home team were seeing one of their players actually far enough inside England territory to have the honour of being adjudged offside in the first half then the relative riches of winning a corner in the second. You could almost call them moral victories.
Swiss referee Alain Bieri, like a boxing referee stepping between a battered old pug and his lethal opponent, even showed mercy by declining to add any time on for England to inflict further punishment.
San Marino are not only as bad an international football team as you will ever set eyes on, they offer the added bonus of not being nasty or cynical enough to try to make up for their inferiority by kicking opponents. You are in not the slightest football or physical danger. If there is a free ride in a World Cup qualifier, then it is San Marino.
This place is so hospitable that if fans do not actually fancy paying for the privilege of watching an international, both ends of the stadium are open with perfect vantage points if you do not wish to part with cash. The choice is yours.
San Marino last scored in a competitive international in October 2008 and have conceded 116 goals since that glorious day when they hit the back of Slovakia's net. They have lost 58 qualifying games in a row.
It was as close to being a pointless exercise as international football gets. No competitive edge, nothing resembling a contest. Simply an opportunity for England to apply some sheen to their goal difference before Tuesday's vital meeting with group leaders Montenegro.
San Marino remain pointless in the group and many regard them as pointless in terms of international opposition but, as Hodgson suggested before the game, if Fifa insist they are worth their place they must be played and beaten.
And how they were beaten. England spread the goalscoring around as Alessandro Della Valle's own goal set them on their way and Alex Oxlade-Chamberlain, Jermain Defoe, Ashley Young and Frank Lampard made it 5-0 before half-time. A deserving Wayne Rooney, substitute Sturridge and Defoe again made this England's biggest win since Turkey suffered a similar fate at Wembley in October 1987.
So what was learned and what benefit did England actually get from what was little more than a glorified "attack against defence" training drill?
We learned Rio Ferdinand, watching events unfold from his much-publicised pundit's seat in Doha, is not a popular man with England's fans. The 34-year-old Manchester United defender was the target for abuse throughout after his contentious withdrawal from the squad then revelations about this television appearance.
Whether he will be missed should not be judged on what happens against San Marino. Montenegro will be a better measure of that but there is a growing sense, despite Hodgson's guarded diplomacy, that the events of the last week may just have closed his England career.
Hodgson will have been happy with the application of his team, who were admirably focused and did not indulge in any showboating, even with the scoreline running away from San Marino.
Oxlade-Chamberlain was promising, Everton's Leighton Baines outstanding while San Marino were cannon fodder for Rooney's intuition and the predatory instincts of Defoe. And Young's 25-yard strike was worthy of any opponent.
England were also able to take the rare opportunity to rest captain Steven Gerrard, safe in the knowledge San Marino would never take advantage of his absence, and keep Ashley Cole out of sight and out of danger of getting the yellow card that would have meant him missing the hostility and fervour of Podgorica.
Rooney was removed after scoring and Lampard, captain on his 95th England appearance, was also given an early night. It was just how the manager might have imagined his perfect picture.
Hodgson also saw victory secured without any fresh injury problems, apart from Theo Walcott's pre-match groin injury, that will allow him clear thinking as he forms his plans for Montenegro.
San Marino did their best and the effort was appreciated by those locals who did file in - but this was a game that flouted its billing as a competitive World Cup qualifier. It could be presented as "Exhibit A" by those who insist such games should become extinct.
England did everything they needed to do and did it impressively. It was a performance with barely a flaw, although it must be viewed in the context of the opposition. Hodgson will know, however, that Montenegro is the serious business.