Northern Ireland v Russia World Cup qualifier called off again
Last updated on .From the section Football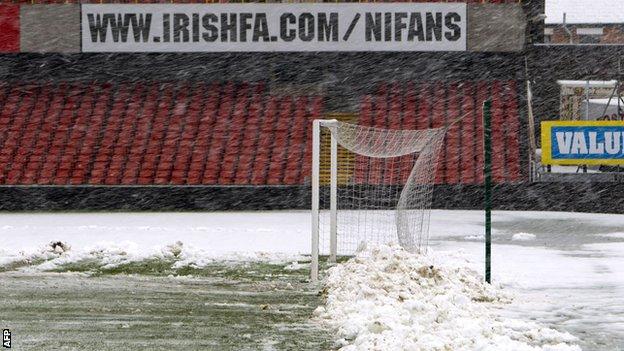 Northern Ireland's World Cup qualifying game against Russia at Windsor Park has been postponed for a second time and is now likely to be staged in June.
Volunteers helped clear snow off the pitch but their efforts were in vain.
The Group F match had originally been scheduled for Friday night but heavy snow in Belfast forced the referee to call it off around lunchtime.
Under Fifa rules, the Irish Football Association had to make another attempt to stage the fixture on Saturday.
The match officials, representatives of both associations and Fifa delegates were back at the venue shortly after 09:00 on Saturday to assess conditions.
Shortly before 11:00 it was announced the match was off because the pitch was frozen.
Earlier, the Irish Football Association had issued an appeal for fans to come to the ground with shovels to help clear snow from the playing surface.
IFA officials have come in for some criticism because no attempt was made to cover the pitch.
But Northern Ireland team manager Michael O'Neill claimed the "freak" conditions would have posed problems for any association.
"We experienced freak weather over a short period of time, from late Thursday and early Friday - freak weather which would have been challenging for any association to get the game on," he said.
"At the end of the day there are more modern stadia that could maybe deal with it but it is the first time in history it has happened (to Northern Ireland), so it is not something we have not managed well, or have mis-managed over time."
A new date will have to be agreed for the Russia game, but the immediate concern now for the IFA must be Northern Ireland's qualifier against Israel at Windsor Park on Tuesday night.
The weather forecast looks bleak for the next few days and there must be some doubt over whether that game will go ahead as planned.