Steven Gerrard: England prepared for Montenegro 'hostility'

By Phil McNulty
Chief football writer, BBC Sport
Last updated on .From the section Football409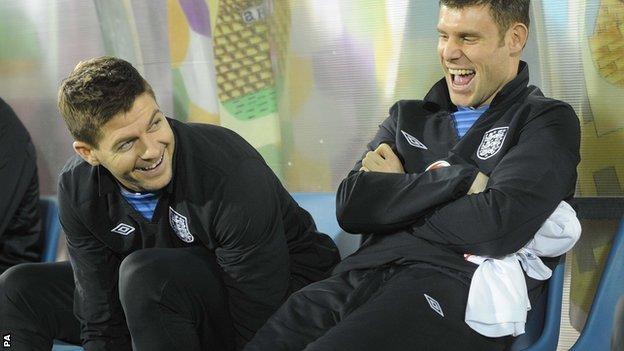 England captain Steven Gerrard says he is confident the side will be ready for the "hostility" of Montenegro after the formality of victory in San Marino - but warned they must hold their nerve.
Gerrard sat out the 8-0 win as Roy Hodgson kept players in reserve for Tuesday's crucial World Cup qualifier against the group leaders in Podgorica.
Gerrard said: "I think their supporters will make it as hostile as they can.
"But I think we will be used to it and will be able to handle it."
England were held to a 2-2 draw in a Euro 2012 qualifier in October 2011 when Wayne Rooney was sent off - and Gerrard knows the atmosphere in Montenegro will contrast sharply with the gentility of the tiny republic of San Marino.
"I don't think there will be that many people there and we are used to playing in front of bigger crowds," he said.
"But these are the type of atmospheres where they try to intimidate us. Any time you are away from home against these countries, when England are in town, the supporters are up for it.
"They are desperate to beat us and everything is against us but I think we've got the players in the squad to go and handle the situation and get the three points."
Gerrard's experience will be vital and he warned his England team-mates to keep their discipline in a game where the stakes are high as they try to take an important step towards qualification for Brazil in 2014.
The memory of Rooney's red card in Podgorica, which cost England his services for the opening games of Euro 2012, will serve as a warning about the dangers of reacting to any intimidation.
"I think everyone has to take that responsibility," said Gerrard. "It is important we keep 11 men on the pitch because it is going to be a very difficult game. It is going to be a pressure situation and we don't need to give the referee any excuse to send any of us off or any unnecessary yellow cards.
"It is important everyone takes responsibility and stays on the pitch. I'm sure everyone knows it before the game but I'm sure the manager will remind everyone. I'm sure that will be one of the points on the board.
"It is a massive game and we've got to make sure we take the three points to take control of this group. You saw from the Manchester United versus Real Madrid game when Nani was sent off that it only takes one challenge, or something a ref doesn't like, and it can change the whole course of a game.
"They will be trying to claim every decision, every foul, and they will be trying to intimidate the ref to make rash decisions. But I'm sure we will have a good ref in charge who will make sensible decisions and it's important we keep our cool and keep everyone on the pitch."
England will again be without the experience of Rio Ferdinand after his controversial withdrawal from the squad - and their travelling supporters in San Marino noisily voiced their disapproval of the 34-year-old Manchester United defender's decision.
Gerrard said: "I think the fans have shown their frustrations about Rio not being here. They are entitled to their opinion. They've spent good money to come over here.
"But, of course, we all wanted Rio here because he is a good player and he certainly would have helped us over these two games. But he's made his decision and we need to respect that."
England boss Hodgson also called for the debate about Ferdinand's absence and the international retirement of John Terry to be put to one side as he prepares to put his trust in Manchester City's Joleon Lescott and Manchester United youngster Chris Smalling.
He said: "John Terry felt the need to retire. Let's respect that. Let's also show respect for the young Smalling and the not so young, but tried and tested Joleon Lescott.
"Joleon Lescott was a champion of England at Manchester City. Chris Smalling is playing for Manchester United. I am not exactly putting a couple of lads from non-league football out there on Tuesday.
"I think we should show them a bit more respect and not constantly compare them with John Terry."