Irish FA responds to criticism after Russia postponement
Last updated on .From the section Football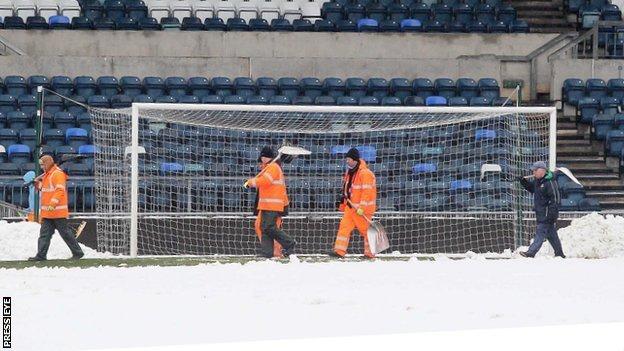 The Irish Football Association has responded to criticism over the postponed World Cup qualifier against Russia.
There have been questions about why Windsor Park was not covered and whether there will be undersoil heating when the stadium is redeveloped.
"Covers are for frost - not snow," said IFA spokesman Geoff Wilson.
"We would have had to get the covers off the pitch early on Friday and there was still snow falling."
The Group F qualifier was postponed on Friday night and then rearranged for Saturday afternoon.
However, continued poor weather overnight meant the chances of it being played were slim.
Wilson was unable to say if undersoil heating was in the plans for the revamped arena.
"We are going to look at the pitch for the new stadium," said Wilson. "Part of it will be a little bit of a plastic pitch in addition to the normal grass.
"There will be areas we will look at with the new redevelopment."
Wilson insisted covers would not have saved the Group F fixture against Russia.
"Experts have said that for the first part of Friday the snow was protecting the pitch," he added.
"But you have to get back to the fact that the conditions were awful and horrendous."
Wilson, who is the association's head of communications, said it was not just the pitch that was the problem.
He pointed out that police were concerned about the risk to fans on hazardous roads and pavements around the stadium.
Windsor Park is scheduled to stage Northern Ireland's qualifier against Israel on Tuesday night, and IFA officials will be hoping conditions in Belfast will improve to allow that game to go ahead.