Spartans aim to begin challenging Glasgow City
By Andrew Southwick
BBC Scotland
Last updated on .From the section Football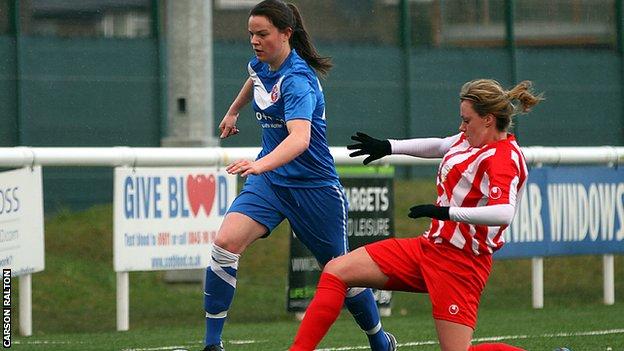 Spartans head coach Debbi McCulloch is confident the Scottish women's game is set to become more exciting.
On Sunday Spartans belatedly kick-off their Premier League campaign at home to reigning champions Glasgow City.
City, who won every domestic game last season, remain the team to beat, but McCulloch says others are catching up.
"All the other teams have got stronger during pre-season, recruiting good players. The talent between teams now is more evenly spread," she said.
"That will hopefully mean only one thing - the Premier League will become more competitive, it won't just be a one-horse race.
"I still think Glasgow City will be the team to beat, I have absolutely no doubt about that. If games are a wee bit closer and a wee bit tighter then I think that's better for Scottish women's football, because it becomes more exciting."
Last week Glasgow City manager Eddie Wolecki Black suggested this year would be his toughest in charge after losing three players to foreign clubs, and beginning the season with five players injured.
Rangers' battling 3-2 defeat at Petershill Park was ultimately in vain, but showed the all-conquering City won't have it all their own way this term.
"I know myself how difficult it is to lose one of your top players because we lost Hayley Lauder at the start of last season, and it was a huge void for us to fill, and it's taken time to be able to fill that," said McCulloch.
"One thing that Eddie is extremely good at doing is getting players who have maybe been average for other teams and getting them playing extremely well, and I think Glasgow City still have a very solid foundation in terms of the talent they have at their disposal.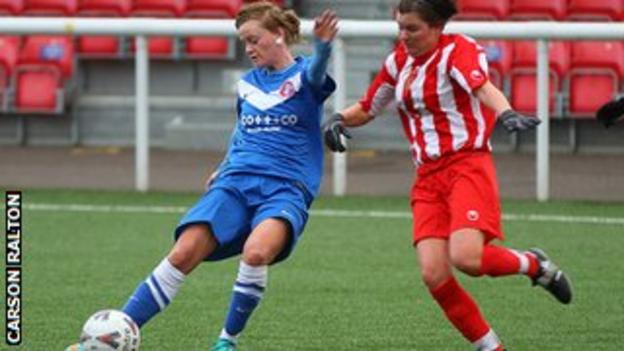 "I think they've got enough depth in there to classify themselves as still being the main title contenders."
Spartans are hoping to be one of the main challengers, and with new players brought in over pre-season, coupled with three League Cup final appearances in a row, the signs are there that the Edinburgh side could be on the verge of success.
McCulloch said: "We've brought in several new players, we've strengthened the squad, and managed to retain all the players that we wanted to retain from last season.
"We've worked particularly hard on fitness and our style of play, and we've made sure we've played some tough friendlies during the pre-season months so that we could test ourselves, and we've learned a lot from it.
"It's difficult to set targets, but we always set high standards here at Spartans. We're always looking to make sure that we compete with other top clubs in the Premier League."
One of the players Spartans have brought in is Stephanie Briggs, and McCulloch reckons they've signed one of the top young prospects in Scotland.
"Stephanie's a young player who's extremely talented," said McCulloch.
"She can play centre midfield or full back, and wanted to challenge herself a little bit more and approached us.
"She's a good reader of the game, she's got good technical ability, and with her being able to adapt to two powerful positions it gave us a bit more than just having a player who can play in either position.
"She was away with the Scotland U19 squad which would have been a fantastic experience for her, and she's training hard, enjoying being part of the Spartans family.
"We do expect big things from her, we expect big things of all our players."