Coventry City transfer staff and stock from Ricoh Arena
Last updated on .From the section Football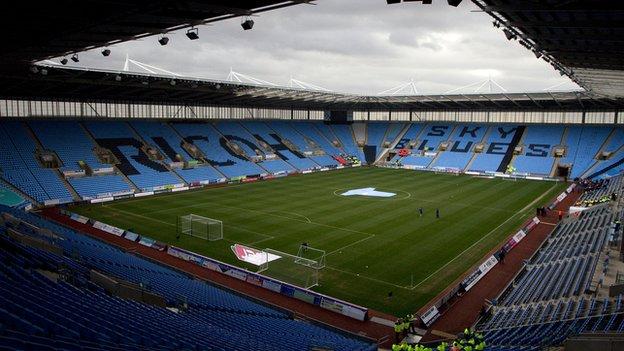 Coventry City have moved all staff and club shop stock from the Ricoh Arena to their training ground
Club staff have been assured their posts are unaffected.
A Sky Blues statement said: "The club has taken the decision to protect its staff by moving them from the stadium."
Coventry City Football Club Limited, which holds the lease for the Ricoh, went into administration on Thursday.
The operating subsidiary, Coventry City Football Club (Holdings) Limited, who employ all the club's staff, hope to find alternative retail premises as well as a permanent base for employees.
City and owners Sisu are due to appear at the High Court in London on Tuesday, to face an administration order from Arena Coventry Limited, City's landlords.
ACL claims that it is owed unpaid rent of £1.3m stretching back a year, and the location of the Sky Blues' remaining three home fixtures is yet to be confirmed.
"Ideally, we would like to keep playing our home matches at the Ricoh if the stadium owners, Arena Coventry Ltd (ACL) will offer reasonable commercial terms," the statement continued.
"All we've ever asked for is an affordable rent with access to matchday revenues, like any other club. We hope these will be offered to us by ACL.
"We noted that the owners of the stadium, ACL, told the court they would be prepared to assist their proposed administrator 'with a partial (or possibly full) deferral' of the stadium rent and licence fee during the administration process.
"Following Thursday's decision to place Coventry City Football Club Limited into administration, ACL told the appointed administrators they would require the full rent and licence fee on the stadium to be paid.
"To reach an agreement with ACL to allow the club to move back and fulfil its fixtures at the Ricoh Arena, we would hope and expect ACL would extend the same terms to the club."
A statement from fans' group the Sky Blue Trust said it had been told by ACL that "ACL would welcome CCFC to play their remaining fixtures at the Ricoh Arena. Coventry is the home of CCFC and any move to play games in another city is purely a voluntary decision taken by CCFC".
ACL added: "The board wishes also to reiterate that there is no truth whatsoever in suggestions reported by some media that ACL will prevent CCFC from playing at the Ricoh Arena.
"The whole point of the course of legal action that the board has taken is to ensure that a successful and sustainable Sky Blues team is able to play at the Ricoh Arena for many years to come."
Coventry face being deducted 10 points if they are placed into administration, which would end their hopes of reaching the League One play-offs.