Craig Bellamy praises Speed and Swansea City over Wales progress
Last updated on .From the section Football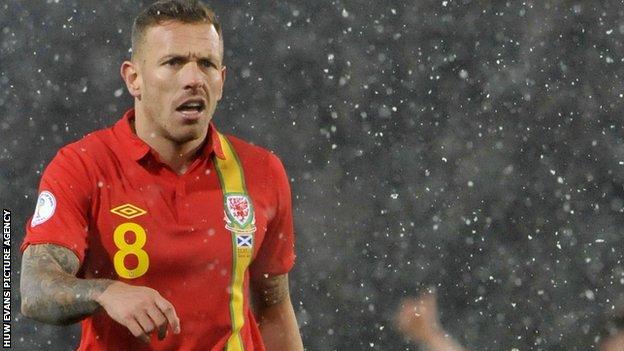 Craig Bellamy says the legacy of late Wales manager Gary Speed has been combined with Swansea City's tactical example to underpin the national team's improved recent form.
And Bellamy says evidence of its success could be seen in their 2-1 World Cup qualifier win over Scotland.
"Swansea have educated us all. Swansea have lit the light," said Bellamy.
"We had an incredible human being [Speed] who came into our national squad as manager and wanted to emphasise that.
"Cookie's [Coleman] trying to do the same as well and trying to deliver the same philosophy."
Wales fought back from 1-0 down at Hampden Park on Friday to win 2-1, leaving Bellamy toasting one of the "proudest" games of his international career.
They now go on to face Croatia in Group A on Tuesday at Swansea's Liberty Stadium with a place at the 2014 World Cup finals still a mathematical possibility.
Brendan Rodgers was in charge of the Swans when news of Speed's death shocked the football world in November, 2011.
Rodgers had already guided the Swansea into the Premier League and his successor, Michael Laudrup, has seen them win the Capital One Cup while maintaining top-flight progress this season.
And the Swans have won admiration throughout the game with an approach more associated with Spanish than British football.
Bellamy added: "We've gone this way with our football in the last few years.
"We were left a legacy by an incredible human being an... we followed that through [against Scotland], which makes me even more proud that… we represent him [Speed] every time we play.
"I'm not emotional. I'm just proud."
However, Bellamy says Wales' set-piece defence must improve, following the first-half Grant Hanley header that put Gordon Strachan's side into the lead.
"[That's] Another set piece which we need to do something about - that's eight set pieces now we've conceded in this group," said Bellamy.
"We can't do that."
And having been at the centre of speculation over his international future for much of this season, Bellamy says the manner of Wales' win over Scotland has left him wanting more.
He added: "The philosophy of the football is playing football and keeping the ball.
"And I said at half time, 'if we lose, we lose'.
"I can take a loss. I can walk off, as long as my head's held high and I'm passing the ball like that, I'll lose.
"If that's not good enough, then it's not good enough."