Joleon Lescott committed to England after cancelling Paris trip

By Phil McNulty
Chief football writer
Last updated on .From the section Football82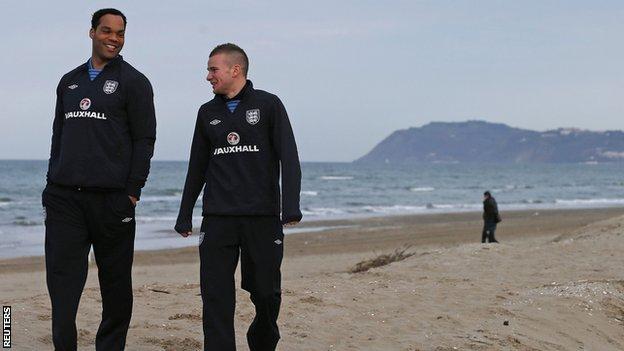 Joleon Lescott made plans for Paris rather than Podgorica - but he is delighted a break with his wife Debbie had to be abandoned in exchange for answering an emergency call from England.
Lescott's romantic trip to Paris can wait for another day as Manchester City's defender grabs the chance of an all-too-rare opportunity for game time in a season where he has been marginalised by manager Roberto Mancini at club level.
The 30-year-old was a cornerstone of City's first title triumph in 44 years last season but Mancini's decision to drop him down his list of preferred central defenders originally cost Lescott a place in England's squad for the World Cup qualifiers against San Marino and Tuesday's critical meeting with group leaders Montenegro.
It means there is every likelihood he will decide to leave The Etihad at the end of the season unless Mancini changes his mind about Lescott's place in his priorities.
But it is an indicator of how swiftly fortunes can fluctuate that Lescott was parachuted in from being an observer at City to a crucial part of manager Roy Hodgson's World Cup plans as circumstances stacked up in his favour.
Lescott was drafted in when Tottenham's Michael Dawson was ruled out by injury, which was followed by Rio Ferdinand's controversial withdrawal and Gary Cahill's absence with a knee problem.
It is an insult to a player who performed with distinction at Euro 2012 to describe him as England's last defender standing - and there was no disguising Lescott's determination to take his opportunity as he spoke at a windy beachside café in England's Rimini base before their departure for Podgorica.
England can be the beneficiaries of Lescott's determination to restate his international credentials and showcase the talents that would make him a bargain at around £4m at season's end. Former club Everton will be in the hunt after fences were mended following his acrimonious £24m move to City in 2009, as well as Aston Villa.
For now, though, Lescott's focus is all on helping England get the result that could shape the manner in which they will be able to reach Brazil. Defeat would leave them facing the prospect of a play-off - victory will give them control of the group.
Lescott said: "We had been given some time off by City and I was going away with my wife. I was going to go to Paris for a couple of days but she called it that I was going to get called up. She said 'we won't be able to go because you'll get called up'.
"I just said 'I hope so' and on Sunday night she was right. I had no inkling but she called it right. I'll have to get her to pick the lottery numbers next week."
Lescott's recall - he even ended up wearing the England captain's armband at the conclusion of Friday's 8-0 win in San Marino - is his equivalent of a lottery win after a season of frustration at City where he has been replaced by impressive summer signing Matija Nastasic.
More surprising has been Mancini's decision to prefer Kolo Toure to Lescott, who watched from the bench as old club Everton surely ended City's hopes of retaining the Premier League in the 2-0 defeat at Goodison Park in their last game, in the absence of injured captain Vincent Kompany.
Manchester United's Chris Smalling has been similarly starved of action but was selected by manager Hodgson ahead of Lescott after his impressive performance in the friendly win against Brazil at Wembley.
Lescott admitted: "I was aware of the situation but the manager said Chris had played in the last game before these qualifiers against Brazil and did well. I understood his decision and respected it. I'm here now and going to take the opportunity with both hands."
He added: "Of course it is a concern that I haven't been playing as much as I would like but I have confidence in my own ability. Touch wood I haven't been injured so I do feel sharp enough to adapt to anything. I'm not saying I'm a guaranteed starter but I feel sharp and fit."
Lescott's sudden demotion at City has not dulled his appetite for the game or success and his immediate priority is achieving his dream of playing in a World Cup rather than worrying about his uncertain future at club level.
"Towards the end of the season I will address that," he said. "But for now I'm fully focused on England and what England need to do.
"Off the back of last season, winning the Premier League then going to the Euros then not playing regularly at City, I know anything can happen in football. I take nothing for granted.
"I enjoy what I do. It's not a struggle to get up in the mornings and go to training. I like to think I am as professional as everyone else. I keep myself physically and mentally prepared for when needed."
And now, as manager Hodgson prepares for Montenegro, he is very much needed by England.