Chelsea youngster commits to Sierra Leone
By Mohamed Fajah Barrie
BBC Sport, Freetown
Last updated on .From the section Football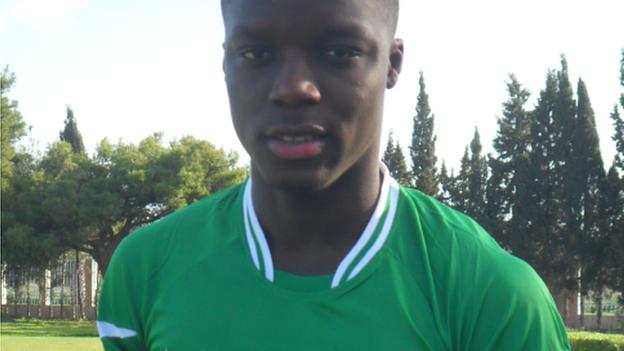 Chelsea youngster Aziz Deen-Conteh has decided to play for his country of birth Sierra Leone and give up any chance he may have to play for England, where he has lived most of his life.
The 20-year-old left-back, who was raised in London and has a British passport, was among 20 players invited by the Leone Stars coach Lars Olof Mattson for the World Cup qualifying match against Tunisia on Saturday.
He made the trip to Tunis, trained with the team twice but did not feature in the 2-1 defeat because his Sierra Leone passport had expired - a fact the Sierra Leone Football Association only learned when the player arrived last Wednesday.
"At first I was completely disappointed when I was told that I was not eligible to play. But I got over it and I'm now calm," Deen-Conteh told BBC Sport.
"I'll not change my mind after what has happened, I know I'm welcome in the squad as I've been encouraged by senior players in the team.
"My mind is already made up to play for Sierra Leone. I'm going to have a new passport and I'm looking forward to our next match against Tunisia at home in June."
While Deen-Conteh is certain about his decision now, it was not always the case - particularly as he had represented England at U-16, U-19 & U-20 levels.
"It was a difficult decision for me to make but I know it's the best for my future," he said.
"I decided that I was not going to play for Sierra Leone when I first heard the news that I've been invited to play for Leone Stars against Tunisia.
"But after I spoke with coach Mattsson and my family members I decided on my own to change my mind to play for the country of my birth instead of England. Nobody forced me to make my decision.
"It is a bold decision I have made because it means I'll not be part of the England team that will be playing the European U-21 Championship in Turkey."