Crawley Town sale not about money, says chief executive
Last updated on .From the section Football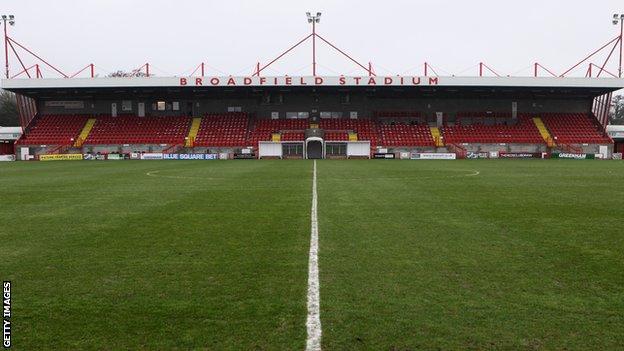 Crawley Town's owners are not aiming to profit from selling the club, according to chief executive Richard Low.
"The owners realised it would cost an awful lot more than they thought it would to get promoted from League One," Low told BBC's Late Kick Off.
"I genuinely believe if they found the right person to take the club forward making money wouldn't come into it."
Crawley are currently owned by Susan Carter and her husband Ian, who run Gatwick-based company World Transhipment Services.
They only hold a minority stake in the club, with the rest of the ownership made-up of unknown far-east investors secured by late co-owner Bruce Winfield in 2010.
"The owners still have enough patience, drive and money to keep us stable in League One and improve the business side of things," Low continued.
"But they love the club and now want to find someone to take us onto the next level of the journey.
"I don't think it's about money, in fact I know it isn't - they're not expecting to make a lot out of it.
Since Winfield and the Carters took control of the club Crawley have won promotion in consecutive seasons.
This year they sit 14th in the League One table, 15 points above the drop zone and 12 points shy of the play-offs places.
"It's a unique situation as normally clubs are sold on the back of debt or because owners can't afford to continue but that's not the case here - this is no fire-sale," chief executive Low added.
"I've already met with one interested party - that's very early days - and had a couple more enquiries.
"Everyone's a little concerned when any major change is announced but I trust the owners.
"They'll only sell to a person who genuinely wants to take the club forward alongside balancing our history."