England are scared - Montenegro coach Branko Brnovic

By Phil McNulty
Chief football writer in Podgorica
Last updated on .From the section Football362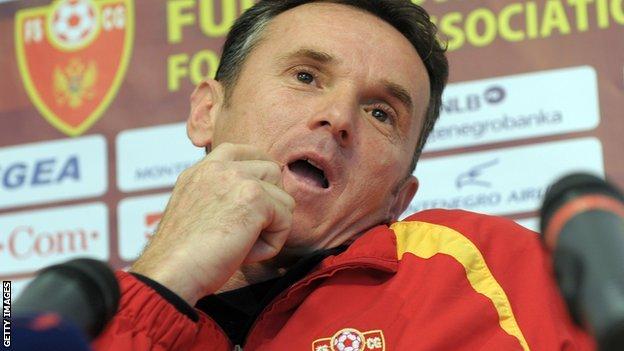 Montenegro coach Branko Brnovic insists England are "scared" of Tuesday's World Cup qualifier in Podgorica.
"We have [Fiorentina striker] Stevan Jovetic and [Juventus forward] Mirko Vucinic. Maybe England are more scared of this game than we are," he said.
Brnovic also accused England of preparing excuses should they lose.
Reports suggest Montenegro are prepared to water the pitch in attempt to make conditions difficult.
England were held to a 1-1 draw in Poland in October after the match had been delayed by 24 hours by a torrential downpour.
"I see some statements from England players complaining about the way the pitch will look but as far as know England have always favoured long passes," the outspoken coach added.
Brnovic delivered a scathing reply to suggestions Montenegro may try to provoke Wayne Rooney following his sending off in England's 2-2 draw in a Euro 2012 qualifier in Podgorica in October 2011.
"As far as I know Rooney was the one who kicked our player not vice versa," he said. "Jovetic and Vucinic always suffer strong kicks but they never complain.
"I can say such English legends and journalists are already trying to resort to excuses for what will happen on Tuesday. Everything seems to bother them."
England hope to play friendlies against Argentina and Germany in November - but defeat in Montenegro would push Roy Hodgson's side towards the play-offs for a place in the World Cup in Brazil and would mean those plans would have to be shelved.
Brnovic said: "Perhaps they did this before the qualifiers because definitely they believe in themselves but maybe after this game on Tuesday they will have to cancel them."
In a verbal performance seemingly designed to get under England's skin, Brnovic also said: "At our hotel, the English journalists are there and can see we are open with everyone. I don't think any of our journalists would be able to squeeze into the hotel where the England team is."
Montenegro dangerman Vucinic also made it clear they regard a possible England central defensive partnership of Joleon Lescott and Chris Smalling as a weakness to be exploited.
Lescott and Smalling have not been regulars at Manchester City and Manchester United this season and the Juventus striker said: "I certainly do see that as a weakness because they have not played for their own clubs so I don't see why their head coach invites them to join the national team."