England not fooled by Montenegro coach Branko Brnovic's antics

By Phil McNulty
Chief football writer
Last updated on .From the section Football129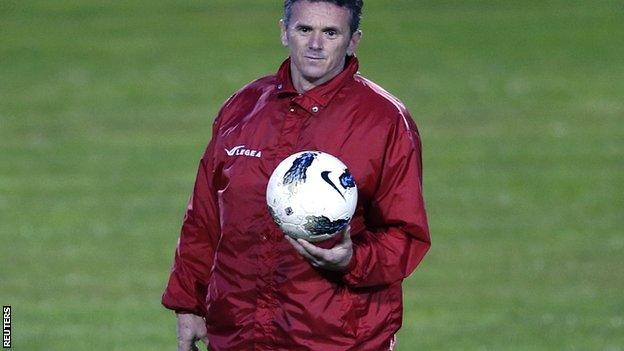 The thunder and lightning that cracked over the streets of Podgorica arrived a few hours after Montenegro's Jose Mourinho-lite coach Branko Brnovic had whipped up some heavy turbulence of his own.
In conditions reminiscent of their last visit here in October 2011, England were greeted by stormy skies as they prepared to train in the rain-sodden City Stadium ahead of Tuesday's key World Cup qualifier against the group H leaders.
By then they had been acquainted with the sledgehammer-subtle mind games employed by Brnovic that will be guaranteed to add an extra coating of competitive edge to a game that will be played out in front of a small, but fervent, gallery.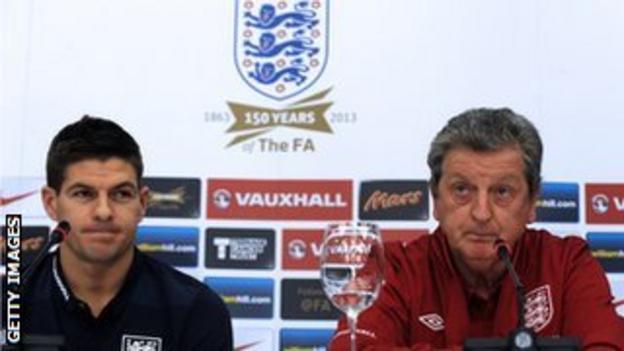 In his pre-match media briefing in a small room tucked high above the much-debated playing surface, Brnovic delivered a series of what seemed to be deliberately aimed low blows designed to get England on the defensive and portray them as paranoid giants preparing for a fall.
It was pure theatre as Brnovic moved through the gears with a series of asides and accusations - some delivered deadpan and others with a grin - that could have been modelled on Mourinho himself in their intent to take a psychological stranglehold on proceedings.
This is a country and a team growing in confidence, helped by the presence of two outstanding attackers in Mirko Vucinic and Stevan Jovetic, and Brnovic's performance mirrored that state of mind.
Not all of his digs were made while standing on firm foundations. His suggestions that England had complained about the referee and the playing surface in a search for excuses in advance were not actually backed up by a shred of solid evidence. The claim that England should have no concerns about a poor pitch as they were primarily a long ball team could not even count as a glancing blow.
It was, in parts, knockabout stuff although it would have been an interesting case study to see how an England manager - and indeed England as a footballing nation - would have been viewed had their manager played so fast and loose with comments about an opponent.
England manager Roy Hodgson, with years of experience behind him, was consumately dismissive while captain Steven Gerrard grinned broadly and offered the odd bemused shake of the head as Brnovic's list of charges against his team were read out.
And a view could even be taken that Brnovic's claims that England were "scared" might be masking that fact that suddenly there is a measure of pressure on Montenegro as expectations rise in accordance with their position at the top of the group.
Was Brnovic covering up some insecurities or fears of his own with such a bullish performance? The answer will be revealed on Tuesday evening.
What England cannot dismiss, however, is that while Brnovic may just have got a little carried away with the intoxication of playing to an enraptured gallery, he set the tone for what they will face on Tuesday.
This may be a small stadium but it will be hostile. Montenegro's fans have a passion that can sometimes boil over but they support a team that has given them plenty to be passionate about. The intensity in Podgorica will be light years from the gentility of San Marino.
Evidence of this was the appearance of Montenegrin football association president Dejan Savicevic before Brnovic made his dramatic entrance.
Savicevic came armed with a sheet of paper recording punishments amounting to 90,000 Euros for a variety of incidents in this stadium over the last 17 months, from a pitch invasion during the drawn Euro 2012 qualifier with England to an incident where a chair was thrown at an opposing Polish player during a group match.
He asked local journalists to make a public plea for calm - whether the call is heeded remains to be seen in what England already know, from the night of Wayne Rooney's red card, can be a very excitable environment.
It will call for cool heads from England as Montenegro have suggested they will be put to the test on and off the field. It will be worth remembering how they seized on sudden vulnerability when England were last here under Fabio Capello, drawing a game they looked to be losing comfortably.
The enthusiasm around this city, the appetite to see England struggle again, is obvious. England will have felt it as they trained on a pitch that was patchwork in parts but looked in very good condition despite being hit by a deluge in mid-afternoon.
Brnovic talked the talk with relish - but will his words be backed up with actions?
The prize for Hodgson and England is clear. Victory will give them control of the group - defeat and the play-offs beckon.
The talking from Brnovic was entertaining but mischievous in equal measure. England will hope to silence Montenegro's coach and fiercely patriotic crowd with the result that will smooth their path to Brazil in 2014.