Under-20 World Cup: England to face Chile and Iraq
Last updated on .From the section Football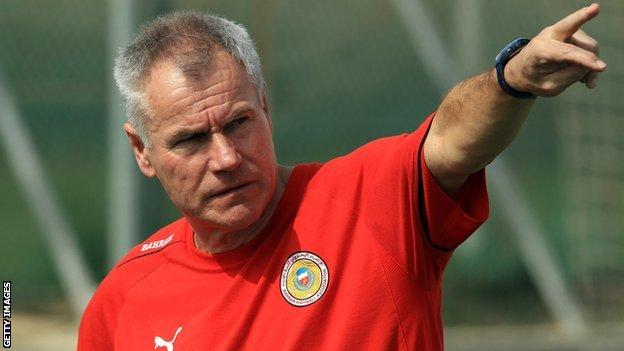 England have been drawn to face Chile, Iraq and the African champions in their group for the 2013 Under-20 World Cup in Turkey.
Egypt, Ghana, Mali and Nigeria are in the semi-finals of the ongoing African under-20 tournament and each will be assigned to a group.
Spain, France and United States are in Group A, while hosts Turkey face, Australia, Colombia and El Salvador.
The 24-team six-group tournament runs from 21 June to 13 July.
Defending champions Brazil failed to qualify for a competition for which England recently appointed Peter Taylor as manager.
"You get the feeling here that it's going to be a really big, important tournament," Taylor told the Fifa website.
"I think this summer's going to provide us with a lot of good attacking football.
"We'll be working hard on scoring goals and hopefully making ourselves tough for our opponents. We're really keen to get off to a good start and if we manage that, we could go a long way."
While the African champions know they will be in Group E alongside England there will be a draw on March 30 to decide which groups the remaining sides from the continent will go into.
GROUP A
France, Spain, USA, African qualifier tbc.
GROUP B
Cuba, Portugal, South Korea, African qualifier tbc.
GROUP C
Australia, Colombia, El Salvador, Turkey.
GROUP D
Mexico, Greece, Paraguay, African qualifier tbc.
GROUP E
Chile, England, Iraq, African Champions.
GROUP F
Croatia, Uruguay, Uzbekistan, Fiji or New Zealand.