Blackburn Rovers: Gary Bowyer managing 'game by game'
Last updated on .From the section Football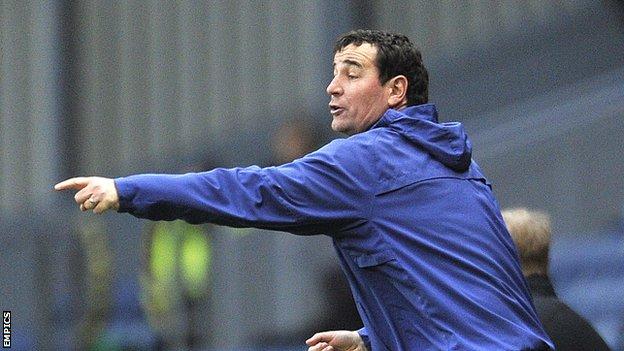 Blackburn caretaker manager Gary Bowyer is unsure how long he will be in control of the first team at Rovers.
Bowyer has been placed in temporary charge for the second time this season after the
"The board asked me to look after it for now," he said.
"They've announced that but I was supposed to be looking after it for the whole of January and that only lasted a week," he told BBC Radio Lancashire.
"We'll just treat it game by game, starting with Blackpool at home on Friday."
The 41-year-old reserve team coach also confirmed he would including global advisor Shebby Singh, managing director Derek Shaw and operations director Paul Agnew.
following the dismissal of Henning Berg in December.
The Championship club announced on 3 January that Bowyer, who had guided Blackburn to wins in his first two matches, only to appoint Appleton eight days later.
Appleton's dismissal after 15 games and 67 days at Ewood Park led Richard Bevan, the chief executive of the League Managers' Association, to declare
The tally stands at 34 after on Sunday.
"The football world's been crazy this season," said Bowyer. "Richard Bevan from the LMA has gone on record about all the sackings.
"It's something that needs sorting and stabilising. Hopefully we can strive to go forward."
Bowyer admitted he was "stunned" to see Appleton leave the club and added: "He's a good manager and he'll go on to be a good manager."
However, he is now committed to the task of keeping Blackburn in the second tier.
With nine games remaining, Rovers are just four points above the relegation zone and without a victory since knocking Arsenal out of the FA Cup on 16 February.
Meanwhile, Singh has told BBC Radio Lancashire that newspaper reports he emailed a Burnley fan and invited him for an interview regarding the managerial vacancy at Ewood Park are "absolute rubbish" and that he is seeking legal advice over the matter.
"We've done our thorough checks and we have documented proof that it is absolutely not true," he said. "An independent IT expert has acknowledged that this is nothing but fabrication. I can assure you that we'll get to the bottom of this."