Coventry City: London High Court hearing adjourned again
Last updated on .From the section Football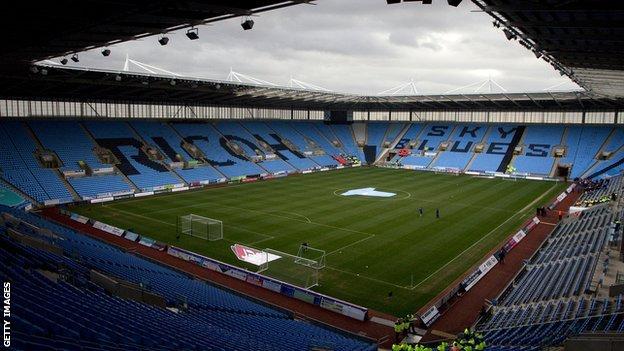 Coventry City's High Court hearing in London has been adjourned again.
City were due in court last Friday to face an administration order from Ricoh Arena landlords Arena Coventry Limited, over a year's unpaid rent of £1.3m.
But, having first been adjourned until Tuesday, the scheduled 10:00 GMT start time has now been put back to 14:00 GMT after ACL withdrew their application to place the club in administration.
ACL manage the Ricoh Arena on behalf of the stadium's joint-owners.
Coventry City Council own a share of the 32,000-capacity ground, along with the Alan Edward Higgs Charity, who have been made an offer for their share by the Sky Blues' latest prospective owner, US-born global businessman Preston Haskell IV.
The hearing was originally adjourned to allow the respective legal teams to analyse the repercussions of Coventry City Football Club Ltd, the non-operating subsidiary company that held the lease and licence for the Ricoh Arena, going into administration last Thursday evening.
The League One club say that Coventry City Football Club Ltd is just a property subsidiary, with no assets of its own.
But the court hearing should decide whether this subsidiary still owns the Golden Share, which guarantees membership of the Football League.
If it has not been transferred to Coventry City Football Club (Holdings) Ltd, then the whole club would be at risk of being placed in administration.
The club are understood to have been in talks with the Football League, arguing their case for not being docked the statutory 10 points.
Coventry currently stand five points adrift of the League One play-off places but, if ACL succeed with their application and the club as a whole is deemed to have gone into administration, a 10-point deduction would immediately halt their bid to return to the Championship at the first attempt.
Reports have suggested that Coventry might still try to resolve the ongoing rent row by playing home games away from the Ricoh Arena, their base since 2005 when they left Highfield Road, their home for the previous 106 years. And the club took the decision to empty their offices and shop on Friday afternoon.