Kevin Davies: Bolton captain to leave Wanderers after 10 seasons
Last updated on .From the section Football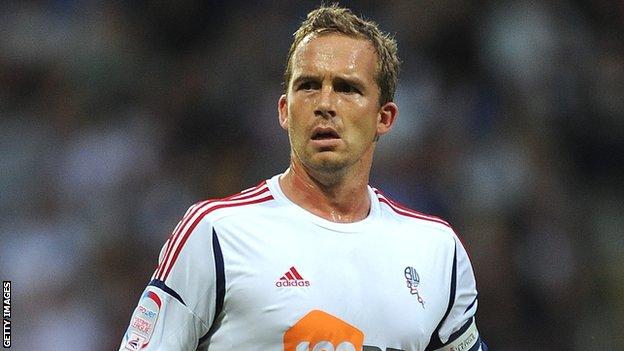 Bolton Wanderers have confirmed that they will not be offering long-serving captain Kevin Davies a new contract.
Davies, who won an England cap in 2010 and turned 36 on Tuesday, has been with the club since July 2003.
The former Blackburn and Southampton striker has scored 84 goals in 407 appearances for the Championship club and has been skipper since 2009.
"It's a bit of a shock to be honest. I was shocked at the time and it's not quite sunk in yet," said Davies.
He told talkSPORT: "I've had a couple of sit downs with the manager. I've been here for so long and you want to get a feel of what's happening next season, whether it's here or not.
"They have made that decision today. It's surprising to be honest because I've been here for so long and it's home. I thought I'd be at the club until I retired and maybe do coaching afterwards."
Davies, who replaced Kevin Nolan as Bolton captain in 2009, has netted six goals in 38 games for Wanderers this term.
"Kevin Davies is and always will be a Wanderers legend," manager Dougie Freedman told the club website.
"I want to be fair to him as regards his future, as he deserves it. This decision means that he is now free to sort himself out with a new club in plenty of time for next season.
"Being the type of man Kevin is, we sat down and had a chat about the future. He wants to carry on playing and playing regularly. He has that desire to continue and this is the best move for him.
"I would like to thank him for his complete support and utter professionalism since I arrived. He never gives anything less than 100% in training, or when called on for first-team duties.
"He will continue to be available for selection for the remaining games of the season."
Davies, who admitted he could leave the club on loan before Thursday's deadline, was also disappointed to be informed that he would not be given a testimonial, as his contract will expire less than a week before he completes a decade of service to Bolton.
"My contract runs out five days before my testimonial is due so I'm not entitled to one," he added.
"I suppose it would have been nice to have one as a thank you for what I've done. I've given my all but that's just the way it's fallen.
"Right now, it's really difficult to take and I will try and keep my head up for the rest of the season. I think it's going to be hard but I will just have try my best."
Davies joined Bolton on a free transfer from Southampton in the summer of 2003, having failed to make an impact following a £7.5m move to Blackburn and then struggling with injury and form upon returning for a second spell with the Saints.
Under the management of Sam Allardyce, Davies immediately became a pivotal figure in the Bolton team, scoring in their League Cup final defeat by Middlesbrough during his first season with Wanderers.
He later helped the club into the Uefa Cup, scoring a late equaliser in a memorable draw at Bayern Munich in November 2007.
His form for Bolton earned him an international call-up and, at the age of 33, he made his solitary appearance for England as a substitute in a Euro 2012 qualifier against Montenegro at Wembley.
Davies was unable to save the club from relegation last season but a few days after their demotion to the second tier was confirmed in May.